Maintenance Software
with Proven Results
All-In-One Preventive Maintenance Software delivers bottom line results
COGZ makes Maintenance easier
Maintenance team productivity excels when techs are on board
See for yourself how COGZ tools will help you meet your goals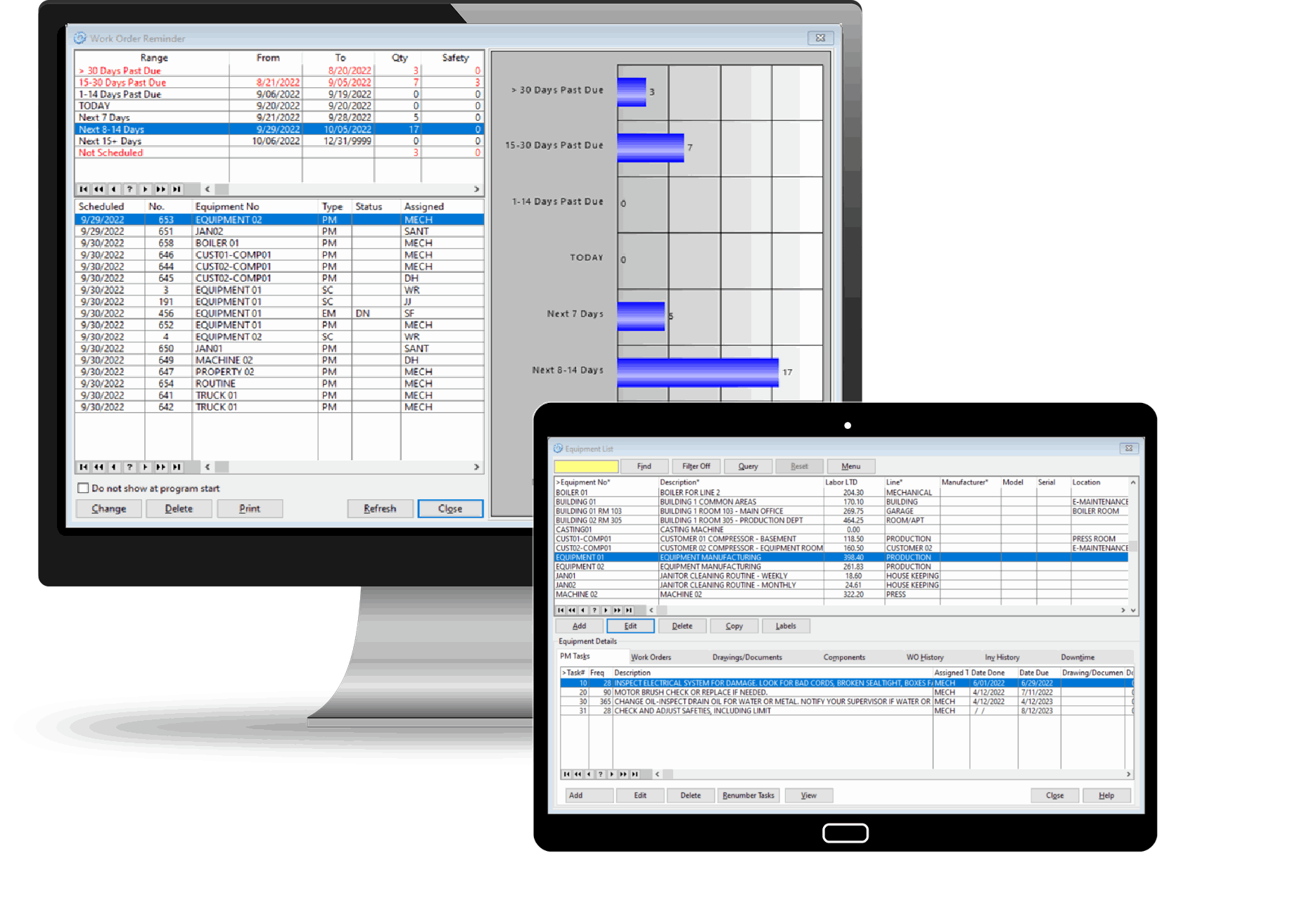 Decrease in Unplanned Work


Maintenance Software Features
Equipment/Asset Management
Maintenance Management Software starts with Equipment Management. Maintain a complete listing of your assets as well as their preventive maintenance requirements, diagrams and maintenance history. COGZ features an Equipment Master Console which tracks all of this information. This powerful display shows all of the information on a piece of equipment on one screen and allows you to enter additional data on the fly from that same screen.
Automated Preventive Maintenance
Preventive Maintenance Software is the cornerstone of your CMMS System. COGZ schedules your preventive maintenance tasks and makes sure that you complete them on time. Performing timely preventive maintenance prevents breakdowns and expensive downtime. It keeps your equipment and facilities running smoothly, improves safety and productivity. Fight inflation by reducing unnecessary costs.
Work Orders
COGZ makes work order management simple. The Work Order List displays all of the open work orders on a single screen. Enter labor an parts costs when work orders are completed. Track work order costs and see what equipment is costing you the most money.  Work Order Reminder makes sure you never forget a work order.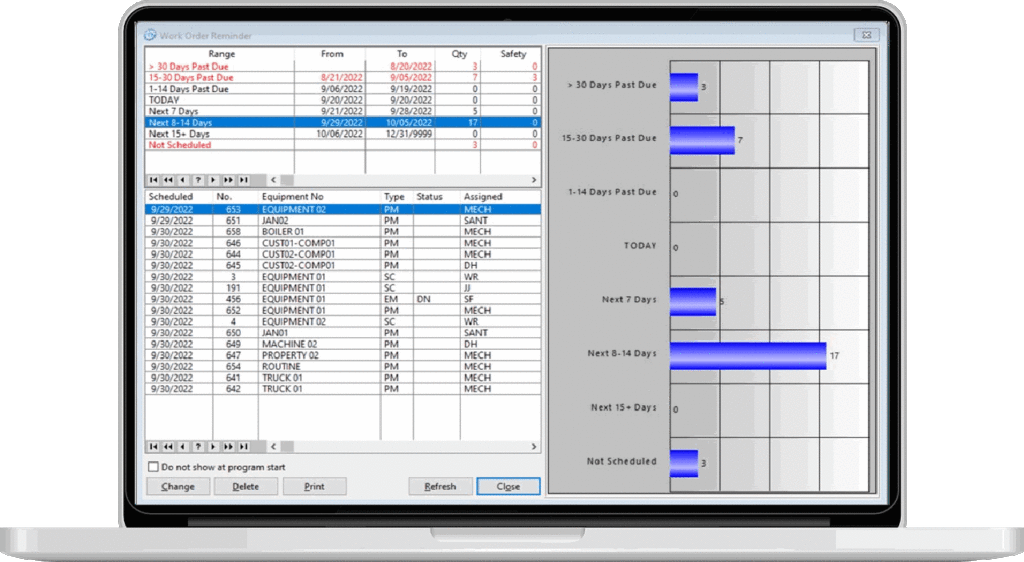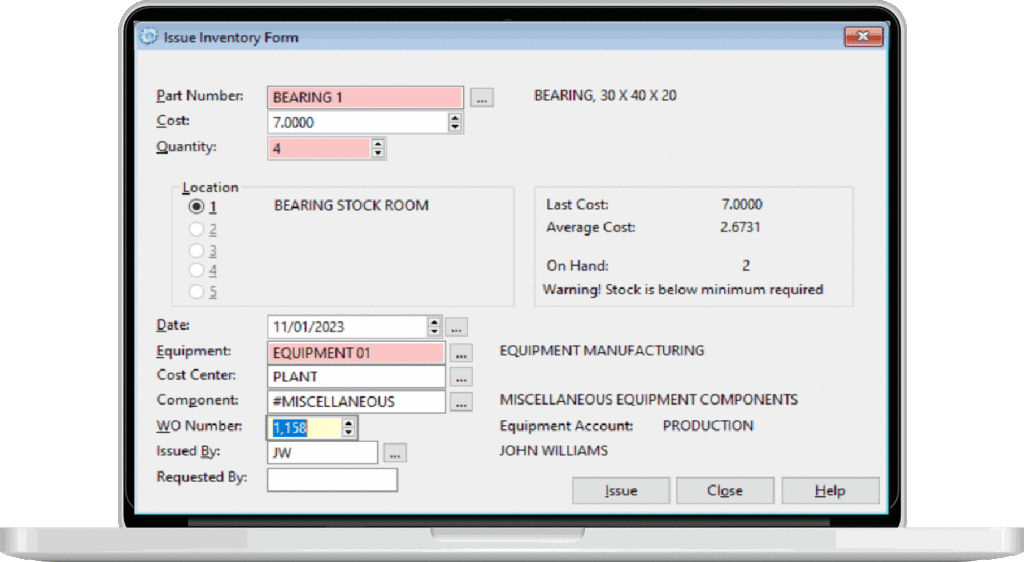 Inventory Management
Global Supply chain issues have made proper inventory management more important than ever. COGZ Maintenance Software tracks what spare parts you have on hand and knows when you need to reorder so you don't run out. All inventory information is logged including cross references and alternative vendors, making it easy to find a substitute when needed. Backorders and expensive overnight freight will become a thing of the past. Lower inventory holding costs by having the right quantity of inventory on hand.
Work Order Requests
Eliminate people running you down in the hallways to ask for work orders. COGZ Work Order Request Module allows employees who don't use COGZ to request work orders. Status updates ensure that requesters are kept informed so they wont have to contact you directly. Work Order Requests may wait for your approval or may go directly to the work order list depending on your requirements.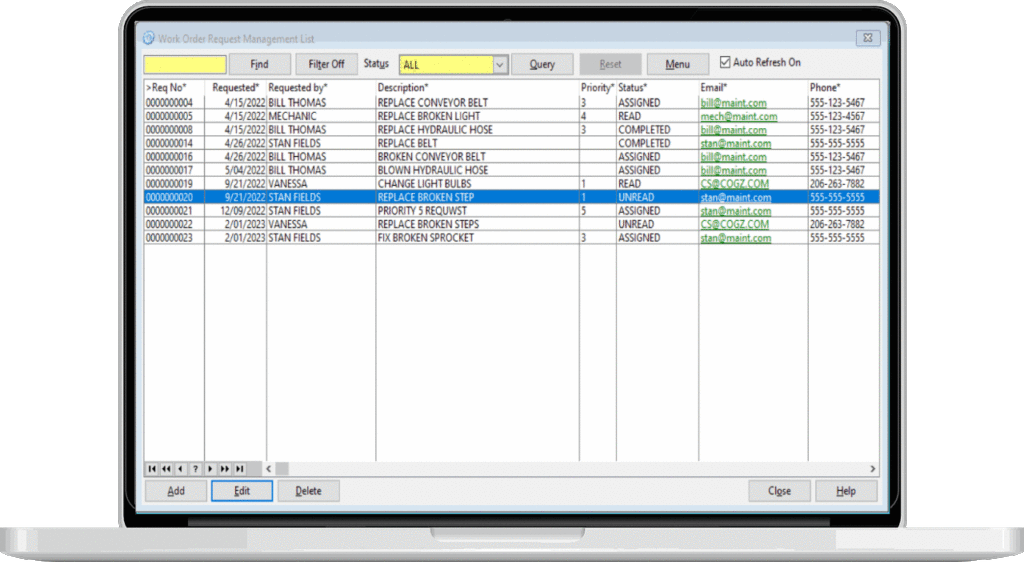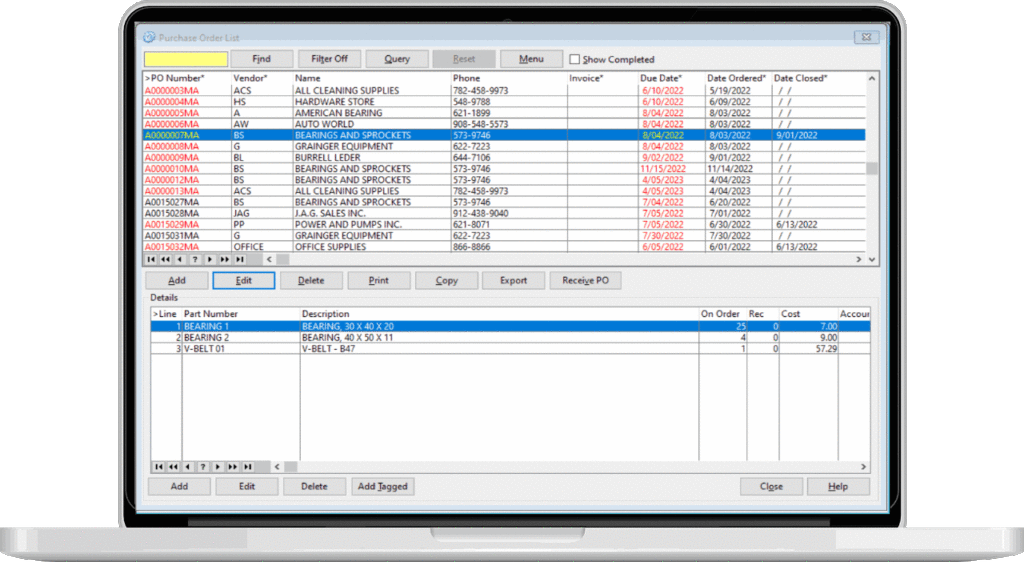 Purchase Orders
COGZ Maintenance Software simplifies the purchasing process. Our purchasing system works with inventory data to automatically create purchase orders when inventory falls below specified minimum levels. Email purchase orders to vendors or within your company.
Vendor Management
Finding information on that infrequently used vendor can be time consuming as well as frustrating. COGZ Maintenance Management Software has all your vendor information available with a single click of the mouse. Contact names, phone numbers, email addresses, all in one place. Never lose track of a vendor again.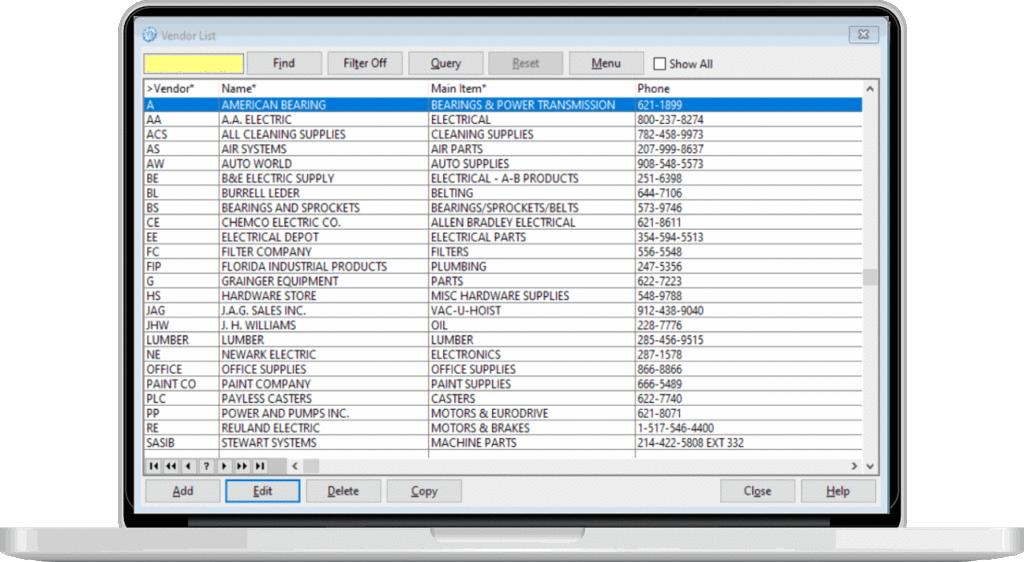 Maintenance Mobility
COGZWeb is Maintenance Management Software in the cloud. All you need is a web browser an an internet connection. Take COGZ into the shop or the field. Go paperless by accessing and completing your work orders on tablets or laptops. Save time by having all of the maintenance data you need at your fingertips. Improve the quality of data entered with the ability to enter data as technicians do the job.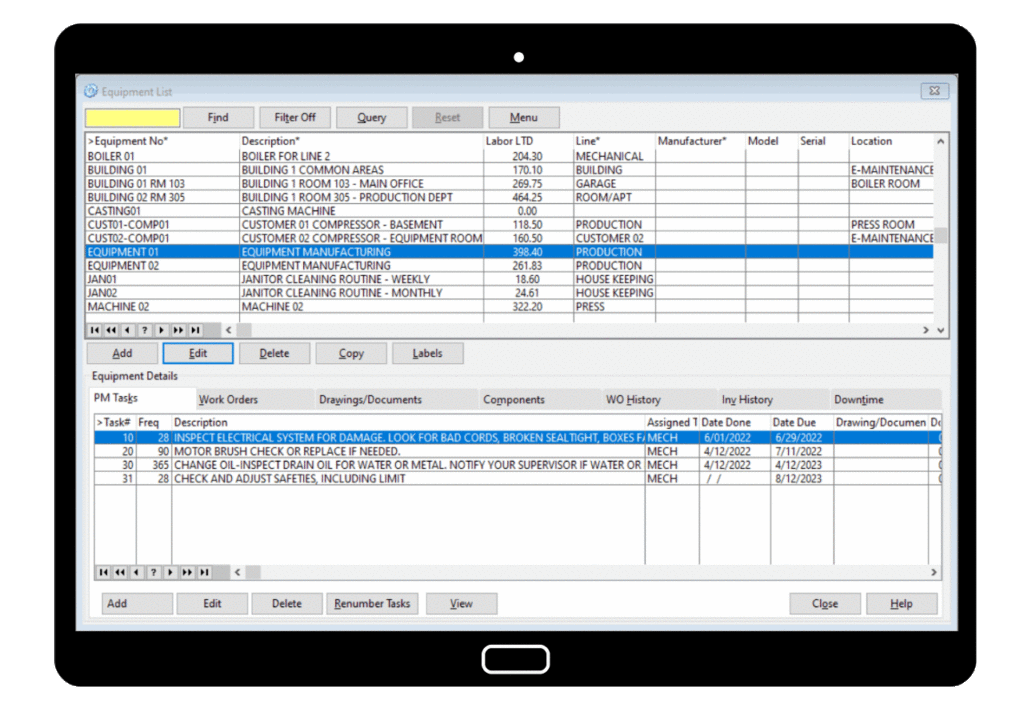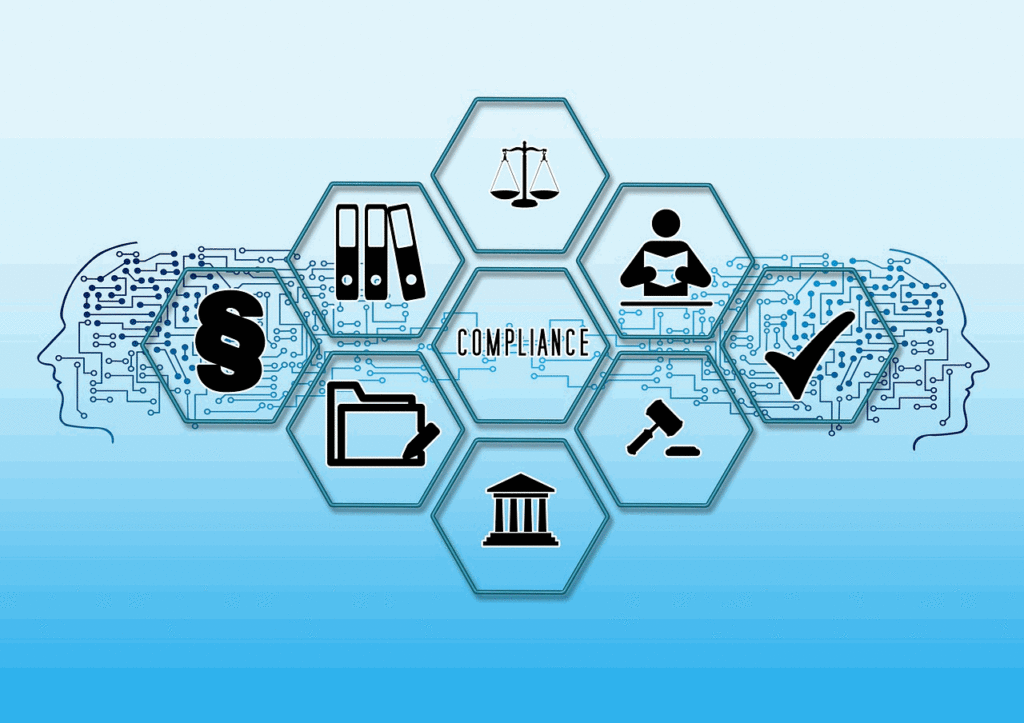 Audits & Compliance
COGZ reports and exports create the documentation needed to meet the demands and standards required by regulators and compliance auditors. Regular reporting and review of KPIs (Key Performance Indicators) will ensure that maintenance best practices are being followed. Our Work Order Summary Report is a powerful tool for documenting what work has been completed. Evaluating the effectiveness of your Preventive Maintenance program provides the opportunity to make improvements which will increase uptime and deliver results to the bottom line.
World Class Support
Our exceptional team of Maintenance Software experts is available to help you better understand the features of your Maintenance Management  System. Take your maintenance department to the next level with online training. Keep your Maintenance Software up to date and get the most out of your system. Online resources are available day or night to provide guidance.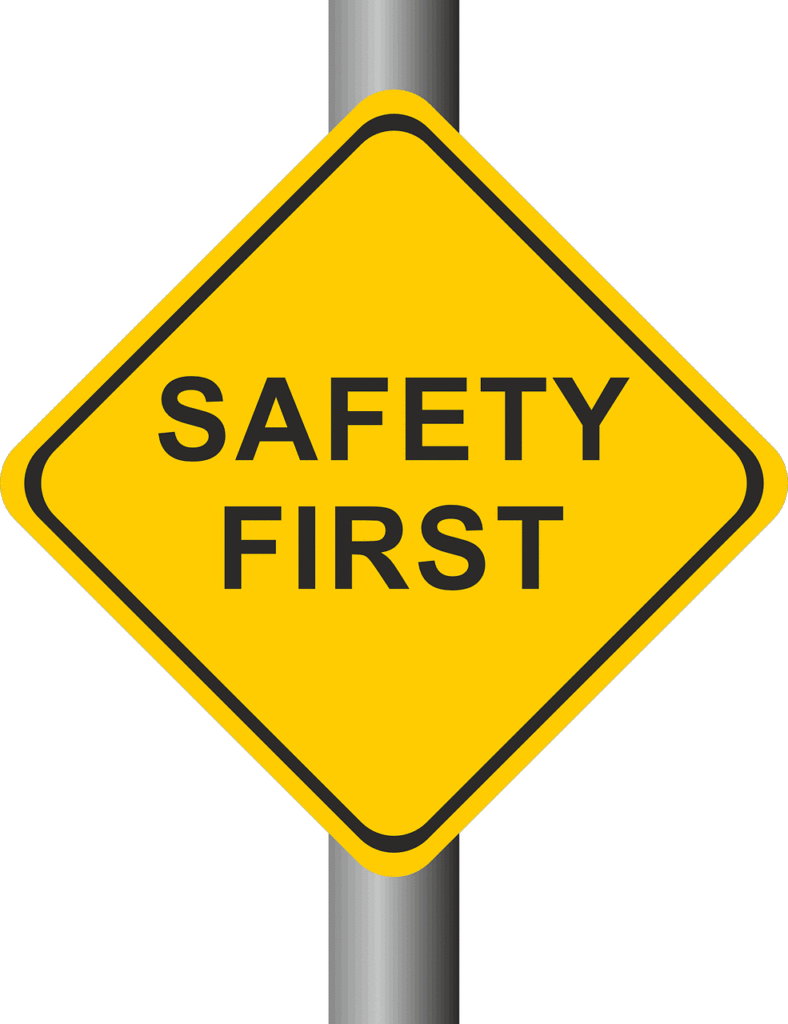 Safety
Safety is a top priority for any maintenance department. Our Maintenance Software will help you create a safer environment for your employees. Safety Work Orders may be prioritized and tracked for compliance purposes and analysis. Include customized safety messages on all work orders to keep safety top of mind while completing work. Automatically schedule repetitive safety work orders to ensure that safety tasks are completed regularly and on time. COGZ tools are designed to optimize safety in your maintenance department. 
Documentation
COGZ has the ability to store various documents related to Equipment, Work Orders, and Inventory. Documents, Drawings and Service Manuals are just some of the items which can be stored in your CMMS for convenient reference. Data and knowledge is preserved for future employees to utilize when needed. Simplify your maintenance operation by keeping all your documents in one place.
Reporting and Data Analysis
COGZ data can be viewed as Reports. It can also be exported to Excel. From there, data may be customized in any way that you require. Graphs can be created to show a visual representation of many key performance indicators. COGZ reporting and export functions make data analysis easy and customizable to meet your specific needs.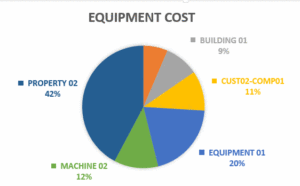 What is Preventive Maintenance Software?
CMMS software is also known as Preventive Maintenance Software. It is a computerized system that helps organizations manage all aspects of their maintenance activities. It includes functions for tracking work orders, scheduling preventive maintenance, managing equipment and assets, managing spare parts inventory, and reporting. Maintenance teams of all sizes across all industries use Maintenance Software to manage their maintenance departments. Maintenance Software helps users to maximize productivity and profitability by controlling costs and efficiently allocating resources.
Maintenance Software Solves Modern Problems
Today's economy has presented many new challenges to businesses. Rising inflation, Global supply chain disruptions and labor shortages are just three of many difficulties faced by companies trying to do business. Here's how COGZ Maintenance Software can help:
Combat Inflation by reducing maintenance costs and extending  equipment life.
Beat Supply Chain Disruptions by keeping commonly used parts in stock. Re-order before you run out.
Reduce employee turnover by reducing stress on your maintenance team with Preventive Maintenance Software that works.
Minimize the impact of high energy costs by increasing equipment efficiency through proper maintenance.
Improve product quality and output quantity through consistent machinery operation.
Why We Switched to COGZ Preventive Maintenance Software
I am very happy with COGZ Preventive Maintenance Software. In my experience with many different CMMS offerings, COGZ is the best by far. My team also thinks COGZ is the most intuitive and easy to use software they have ever worked with. They even ask why their other computer software can't be as simple to use as COGZ!
Doug McBride 
Manager System Reliability
Laticrete International Inc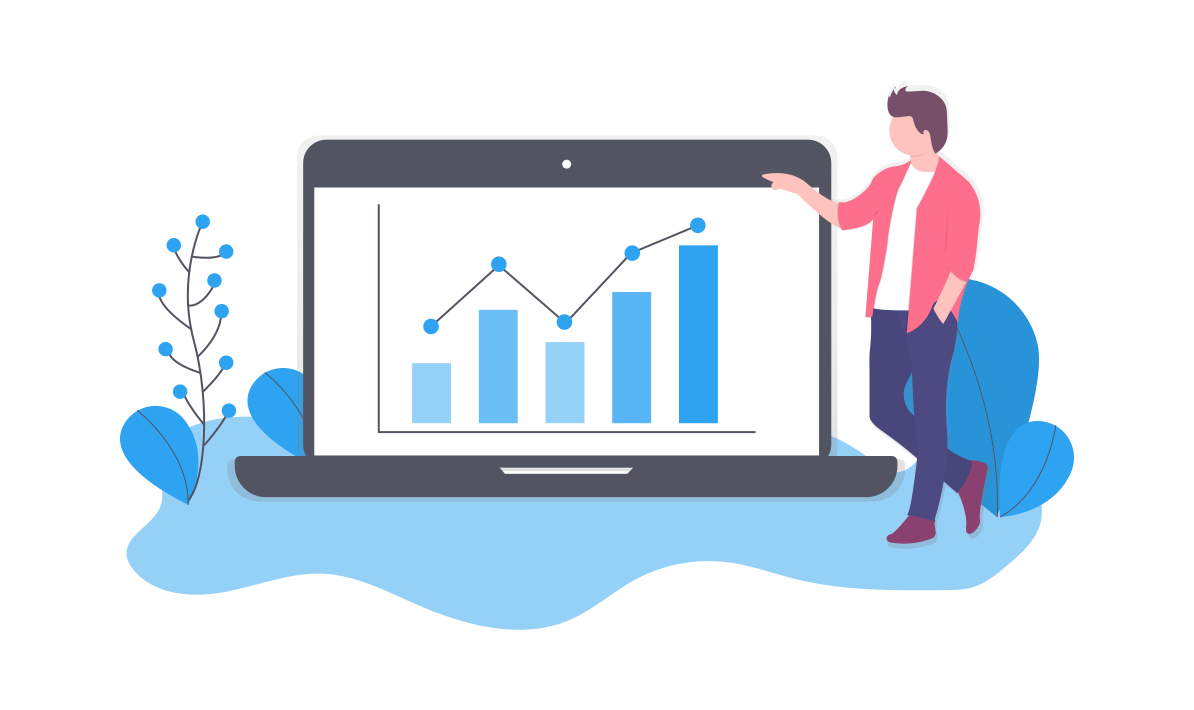 Maintenance Software for Data Analysis
Data Analysis is an important component of Maintenance Management. CMMS Software collects data as maintenance is performed. Data should be analyzed on an ongoing basis so that  patterns can be detected and changes can be made to improve efficiency.
COGZ CMMS Software has the ability to export data from many areas. This allows you to view and manipulate your data in any way you require and to create charts and graphs.
Graphs provide a visual representation of your most important data to management and auditors. Using Excel for data analysis allows you to create graphs and charts using exactly the data you need. Use these custom graphs to analyze data and determine actions that need to be taken to optimize your maintenance department.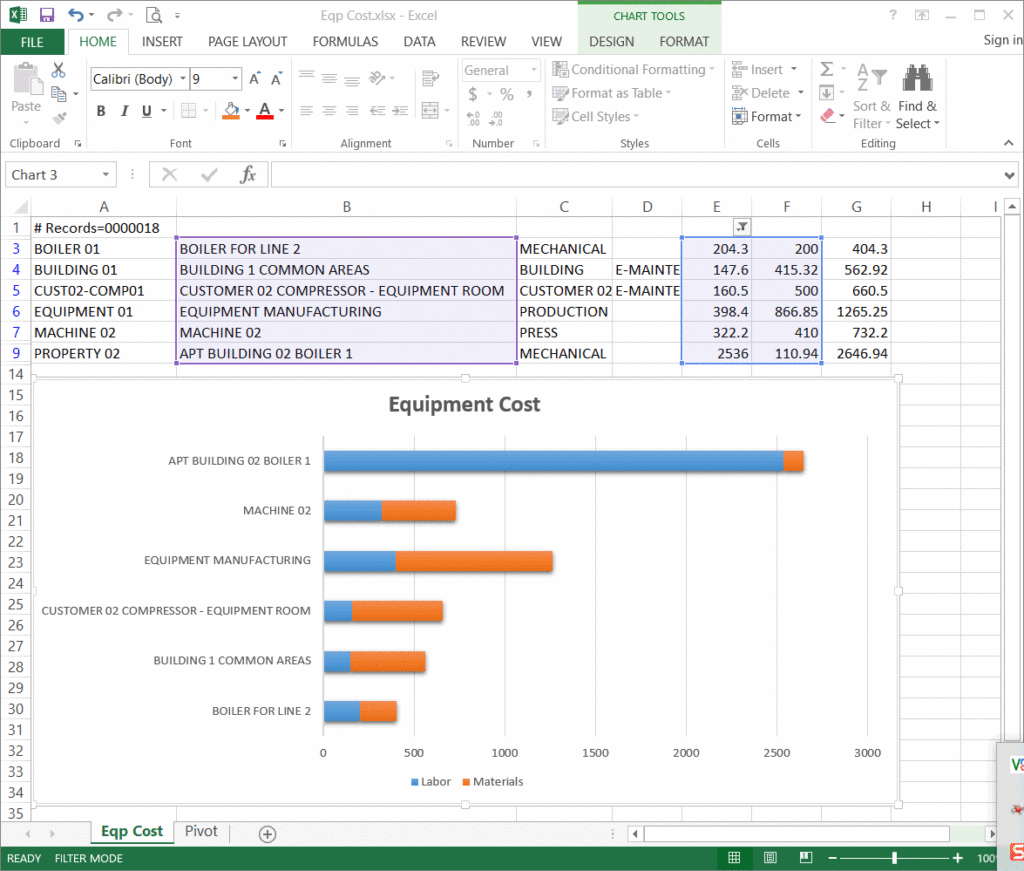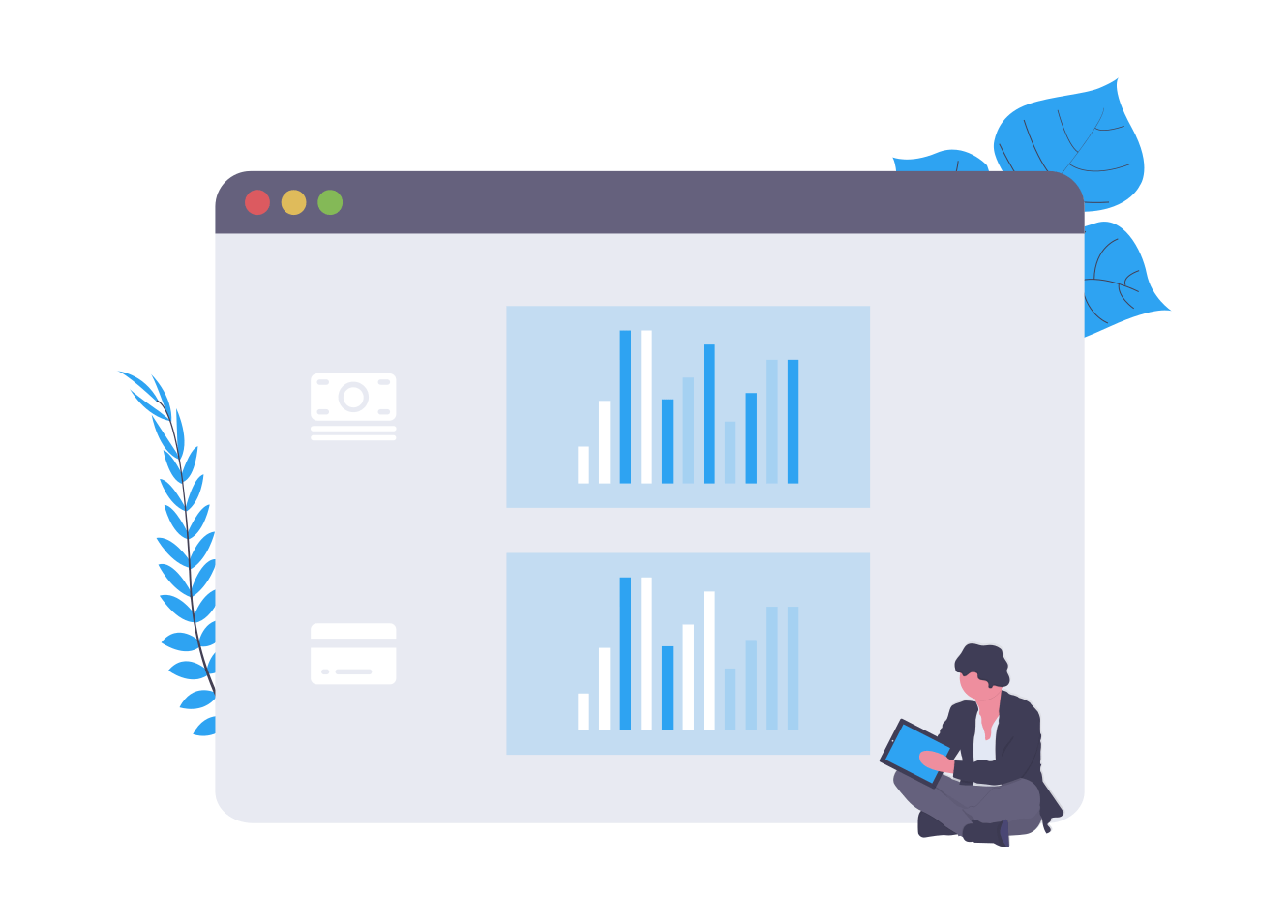 What are the benefits of Maintenance Management Software?
Computerized Maintenance Management Software automates your maintenance department. It cuts maintenance costs and increases profitability. COGZ Maintenance Software will help you take control of your maintenance department and create efficiencies.
Reduce Breakdowns and Downtime
Increase wrench time- Minimize research and travel time.
Right size your Preventive Maintenance Schedule
Have the parts you need when you need them
Streamline the Work Order Request Process
Automate Purchasing
Maintenance Software Trends
Mobility: Cloud Maintenance Software can be accessed from anywhere with an internet connection allowing you to take your system to the job site.
Move to cloud hosting: Cloud hosting simplifies implementation of your Preventive Maintenance Software. Your system is stored on our cloud server so there is no need for hardware or IT assistance.

Move to Predictive Maintenance

: Data collected from your CMMS along with condition monitoring equipment can be used to perform Predictive Maintenance (PdM) on your equipment.
Enterprise Maintenance Software: Enterprise systems allow large companies to bring multiple locations or departments onto one system. Get all available features and share information across locations.
Automation: Increased production demands have lead to a rise in automation making preventive maintenance more challenging and more important than ever.
Internet of Things (IoT): Equipment can now be fitted with sensors and software with the purpose of sharing data with other devices via the internet.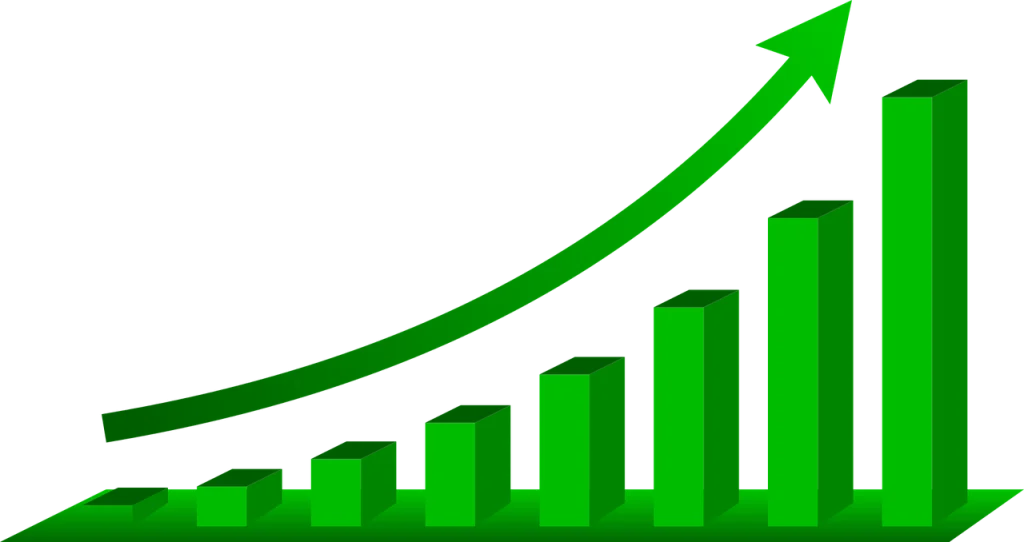 Maintenance Software Supports Employee Retention
See how COGZ Preventive Maintenance Software Reduces Stress on your Maintenance Team by Lightening their workload. 
Easy Implementation will have your system up and running fast

Simple and intuitive interface for users with limited computer skills

Reduce breakdowns by focusing on preventive maintenance

Have the parts you need in stock when you need them 

Save technician time with proper

maintenance planning

Streamline the Work Order Request process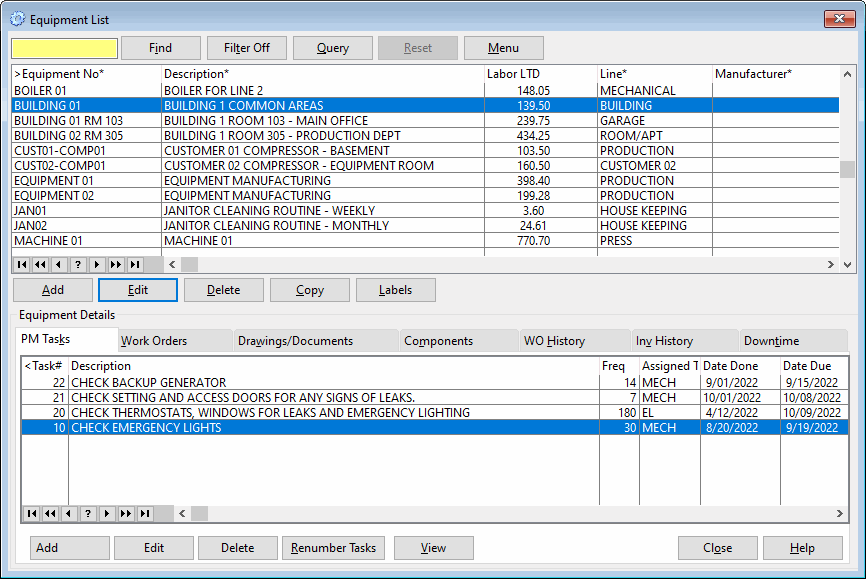 Preventive Maintenance Software With 25 Years of Experience – Customer Reviews
Customer Testimonials – What COGZ Users are Saying.
We use COGZ primarily for asset inventory management and have found it to be especially economical and simple to use. In my experience, there was very little training time needed. All in all, it is a very dependable maintenance management system.
We are very pleased with COGZ Preventive Maintenance  Software. It is very easy to use. Two of my employees who have had almost no computer experience were able to pick it up with no trouble and successfully enter work orders on a daily basis. Thank you for a very user-friendly system.
I have used COGZ at two different bakeries over a time span of ten years. In my experience, the software is easy to both setup and use. COGZ requires minimal computer skills and minimal hardware to run effectively. I have received excellent customer service as well.
Maintenance Software Frequently Asked Questions
What is the best Preventive Maintenance Software?
COGZ is flexible enough to be used in any maintenance operation. It offers the opportunity for customization, mobility and scalability. It is simple to use and makes maintenance management easier.
What is the price of Preventive Maintenance Software?
Pricing depends on the features and number of users your maintenance department requires. See our Pricing page determine what COGZ version best meets your needs.
Who uses Preventive Maintenance Software?
CMMS Software is used in maintenance departments throughout a variety of industries. Manufacturing, Industrial, Food Processing, Healthcare, Education, Retail, Energy, Government and Hospitality are just some of the industries experiencing the benefits of Maintenance Software. Maintenance technicians, Maintenance Managers, Facility Managers, Engineers and executives are just some of the individuals who use CMMS to manage their operations every day.
Is training available?
COGZ offers live online training in 90 minute sessions. Sessions are fully customizable based on your specific needs. Contact us if you wish to schedule an online training session
Can I connect COGZ Preventive Maintenance Software to SAP?
COGZ CMMS has the ability to interface with SAP as well as other Accounting or ERP software. All of our interfaces are customized to your exact specifications.
Is my Preventive Maintenance Software data secure?
Cloud Maintenance Software is the most secure CMMS solution. Data is stored on cloud servers which are specifically designed by security experts to be as safe as possible. Backups are performed frequently and are stored offline and offsite.
What is the difference between CMMS and EAM?
CMMS is a Computerized Maintenance Management System. It is an all-in-one maintenance solution that schedules preventive maintenance and other work orders. EAM is Enterprise Asset Management software. EAM manages assets throughout their entire lifecycle including depreciation and heavy financial metrics. These systems are substantially more costly and more challenging to use.