Maintenance Software
with Proven Results
Best In Class CMMS Software offers the fastest implementation
COGZ Makes Maintenance Easy. Maintenance Team Productivity excels when your technicians are on board.
Use the Equipment Master Console to quickly access information including PM Schedule, History, Inventory and Drawings to get the job done.
See for yourself how COGZ tools will help take the stress off your maintenance team. Get the reports management and your auditors demand.


COGZ CMMS Software Results
Decrease in Unplanned Work
Why We Switched to COGZ CMMS Software
I am very happy with COGZ CMMS. While I have experience with many different CMMS offerings, COGZ is the best by far. My team also thinks COGZ is the most intuitive and easy to use software they have ever worked with. They even ask why their other computer software can't be as simple to use as COGZ!
Doug McBride 
Manager System Reliability
Laticrete International Inc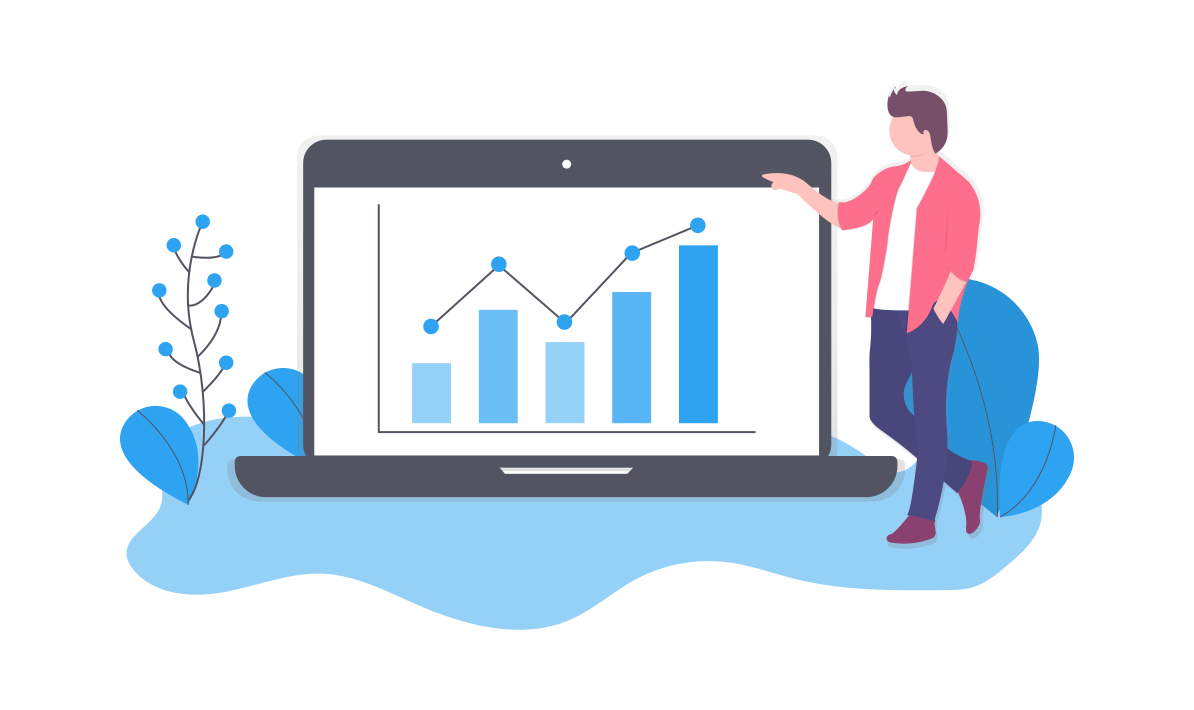 CMMS Software Solves Modern Day Problems
Today's economy has presented many new challenges to businesses. Rising inflation, Global supply chain disruptions and labor shortages are just three of many difficulties faced by companies trying to do business. Here's how COGZ CMMS Software can help:
Combat Inflation by reducing maintenance costs and extending  equipment life.
Beat Supply Chain Disruptions by keeping commonly used parts in stock. Re-order before you run out.
Reduce employee turnover by reducing stress on your maintenance team with software that does the job.
Minimize the impact of high energy costs by increasing equipment efficiency through proper maintenance.
Improve product quality and output quantity through consistent machinery operation.
COGZ CMMS Software Features
Equipment/Asset Management
A CMMS System starts with Equipment Management. Maintain a complete listing of your assets as well as their preventive maintenance requirements, diagrams and maintenance history. COGZ CMMS Software features an Equipment Master Console which tracks all of this information. This powerful display shows all of the information on a piece of equipment on one screen and allows you to enter additional data on the fly from that same screen.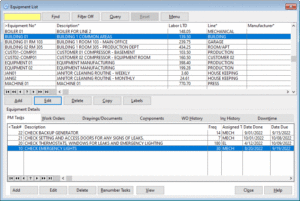 Automated Preventive Maintenance
Preventive Maintenance Software is the cornerstone of your CMMS Software. COGZ schedules your preventive maintenance tasks and makes sure that you complete them on time. Performing timely preventive maintenance prevents breakdowns and expensive downtime. It keeps your equipment and facilities running smoothly, improves safety and productivity. Fight inflation by reducing unnecessary costs.
Work Orders
COGZ makes work order management simple. The Work Order List displays all of the open work orders on a single screen. Enter labor an parts costs when work orders are completed. Track work order costs and see what equipment is costing you the most money.  Work Order Reminder makes sure you never forget a work order.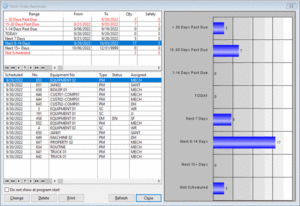 Inventory Management
Global Supply chain issues have made proper inventory management more important than ever. COGZ CMMS Software tracks what spare parts you have on hand and knows when you need to reorder so you don't run out. All inventory information is logged including cross references and alternative vendors, making it easy to find a substitute when needed. Backorders and expensive overnight freight will become a thing of the past. Lower inventory holding costs by having the right quantity of inventory on hand.
Work Order Requests
Eliminate people running you down in the hallways to ask for work orders. COGZ Work Order Request Module allows employees who don't use COGZ to request work orders. Status updates ensure that requesters are kept informed so they wont have to contact you directly. Work Order Requests may wait for your approval or may go directly to the work order list depending on your requirements.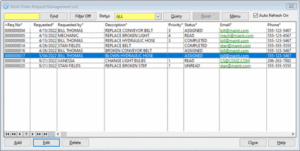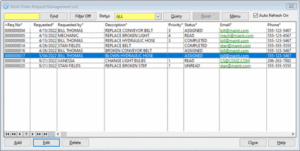 Purchase Orders
COGZ CMMS Software simplifies the purchasing process. Our purchasing system works with inventory data to automatically create purchase orders when inventory falls below specified minimum levels. Email purchase orders to vendors or within your company.
Vendor Management
Finding information on that infrequently used vendor can be time consuming as well as frustrating. COGZ Maintenance Management Software has all your vendor information available with a single click of the mouse. Contact names, phone numbers, email addresses, all in one place. Never lose track of a vendor again.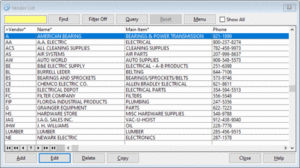 CMMS Software Mobility
COGZWeb is Maintenance Management Software in the cloud. All you need is a web browser an an internet connection. Take COGZ into the shop or the field. Go paperless by accessing and completing your work orders on tablets or laptops. Save time by having all of the maintenance data you need at your fingertips. Improve the quality of data entered with the ability to enter data as technicians do the job.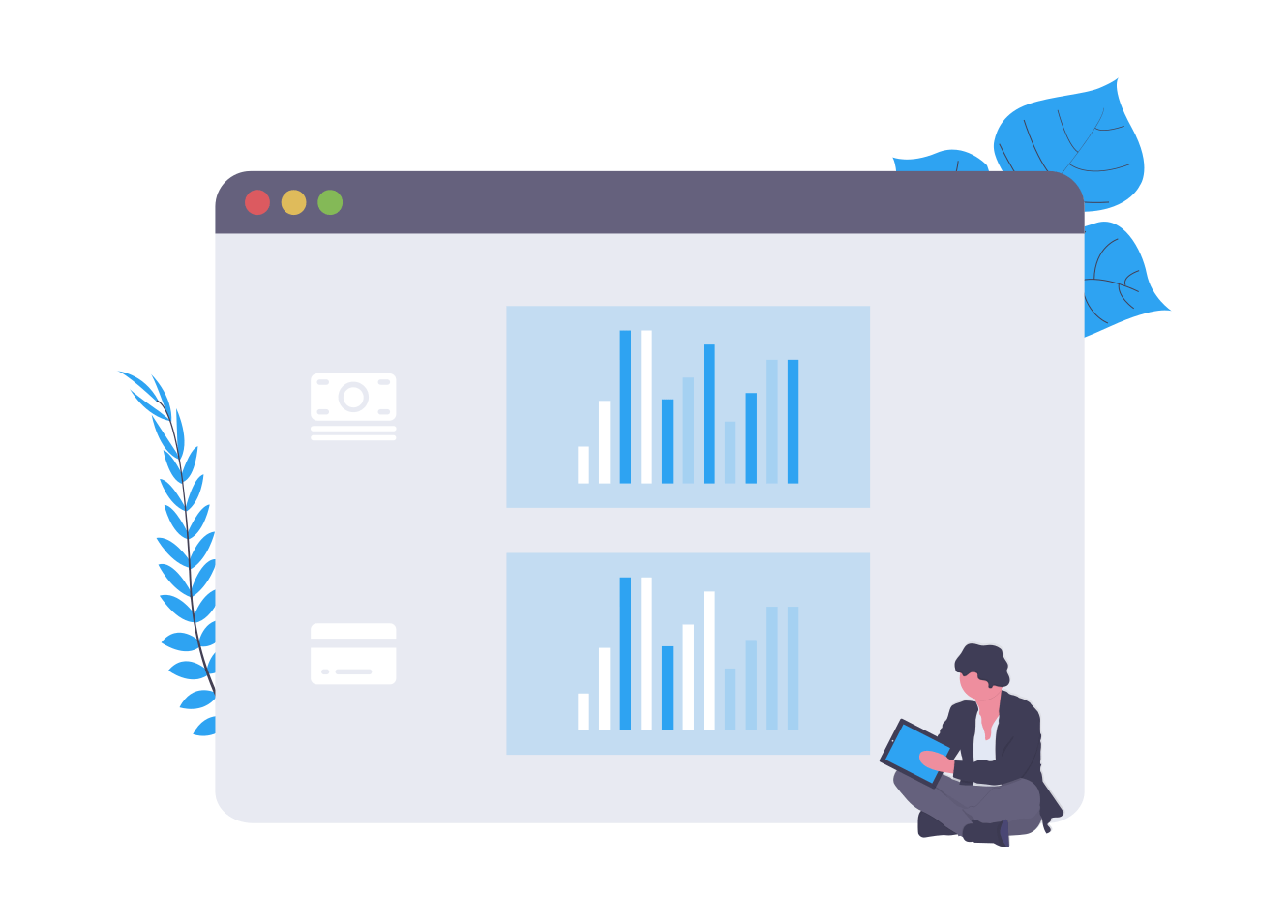 What are the benefits of CMMS Software?
Maintenance Management Software automates your maintenance department. It cuts maintenance costs and increases profitability. COGZ CMMS Software will help you take control of your maintenance department and create efficiencies. 
Reduce Breakdowns and Downtime
Increase wrench time- Minimize research and travel time.
Right size your Preventive Maintenance Schedule
Have the parts you need when you need them
Streamline the Work Order Request Process
Automate Purchasing
 COGZ CMMS Software Supports Employee Retention
See how COGZ Maintenance Management Software Reduces Stress on your Maintenance Team by Lightening their workload. 
Easy Implementation will have your system up and running fast

Simple and intuitive interface for users with limited computer skills

Reduce breakdowns by focusing on preventive maintenance

Have the parts you need in stock when you need them 

Save technician time with proper

maintenance planning

Streamline the Work Order Request process