Work Order Software
Work Order Software automates your workflows. Manage, view, print and close Work Orders from one powerful Screen. COGZ Work Order Software for maintenance is an easy to use solution that allows you to enter Work Orders in seconds. Get the information you need to properly utilize your staff, monitor time required, and capture costs incurred. Work Orders are the documentary basis for all work done. Completed Work Orders are stored as Work Order History and are organized by Asset.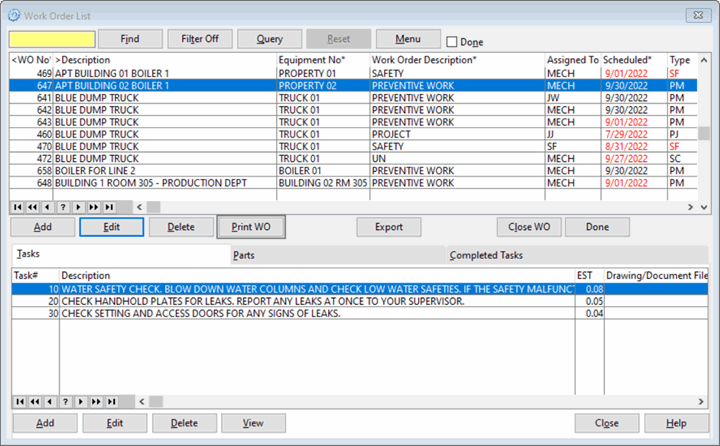 What is Work Order Software?
Work Orders are a major component of CMMS Software. The main purpose of work orders is planning. Maintenance Work Orders plan what work needs to be done, when, and by what employee. It includes an estimate of how long the task will take and any parts needed. They can help to budget hours and costs. Work Orders can be used to calculate your maintenance backlog and will help you to manage your maintenance resources. Once work orders are completed they are documented in Work Order History. Information recorded can be used to make better management decisions with the goal of increasing maintenance department efficiency. COGZ users experience lower costs, longer equipment life spans and improved productivity.
Types of Maintenance Work Orders
Preventive Maintenance Work Orders
Preventive Maintenance Work Orders plan preventive maintenance tasks according to a schedule. The objective is to keep equipment in good repair to prevent breakdowns and unplanned work. Work order software will make sure that the parts needed are available and adjust inventory levels accordingly. Allocate resources more effectively by proactively scheduling preventive work.
Corrective Work Orders
Corrective Work Orders are a plan for how to fix a piece of equipment when something goes wrong. They plan which staff member will complete the work, how long it will take, which parts are required and when the equipment can be taken out of production. Needed inventory is assigned and subtracted from stock.
Work Order Software Features
Preventive Maintenance Work Orders and Corrective Work Orders are the moving parts of your CMMS System. Spare Parts inventory is allocated to work orders, and then the equipment when the Work Order is processed. Work Orders are the record that makes sure everyone involved is on the same page as to what the issues are and what the plan is. Maintenance Work Order Software ensures that all assigned work is completed and recorded as Work Order History. Complete work orders faster than ever with our innovative and time-saving features.

Multiple Items
Have multiple items for the work order? You can add as many tasks as you need to definitively define and document the work required. Maintenance Work Order Software will track each task and its resolution.

Scheduling
Know the maintenance workload at any point in time. Maintenance Work Order Software allows you to review the overall work load and adjust the maintenance schedule as needed.

Parts Tracking
Make sure your technicians are prepared for the assignment. Pre-assign parts required for Work Order so your tech has the required parts in hand when arriving at the asset. Avoid waiting for backordered parts.

Scheduling Flexibility
Changing priorities require an immediate adjustment to your work order schedule? Updating the assigned technician or the scheduled date requires just a click or two. Keep on top of the important issues to make sure work is done in the right order.

Attachments
Attach a drawing or other document to the Work Order Task and print it with the Work Order. Make sure your staff has all the resources they need to complete the work properly and efficiently.

Closing your Work Orders
Maintenance Work Order Software captures all the necessary information when the work is completed. This information is automatically linked to the Asset, the employees, your spare parts inventory and more – always available at the click of a button.
Work Order Software Overview
Work Order Reminder
Work Order Reminder makes sure you never forget a work order. All open work orders are organized by date range with a visual representation of their status. Past due work orders are displayed in red. The work order reminder is displayed on start up to ensure that you work orders are being completed as scheduled.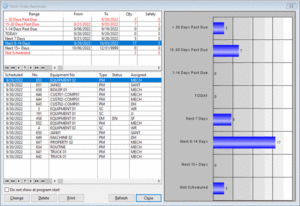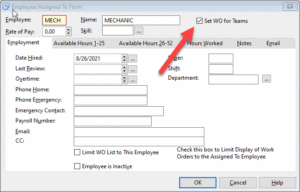 Work Order Teams
COGZ offers the ability to assign multiple technicians to a single corrective work order. Increase your reporting and costing accuracy with this powerful work order feature.
Work Order Requests
Eliminate people running you down in the hallways to ask for work orders. Work Order Request software allows employees who don't use COGZ to request work orders. Status updates ensure that requesters are kept informed so they wont have to contact you directly. Work Order Requests may wait for your approval or may go directly to the work order list depending on your requirements.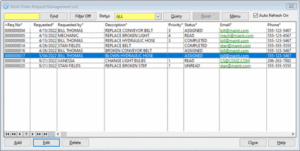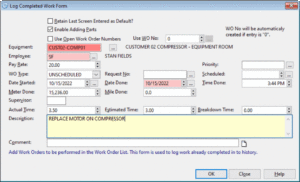 Log Completed Work
The log completed work function allows you to record work that has already been completed without creating a work order. This function is also helpful when adding daily work to a project work order or to add additional work once a work order has been completed. This useful feature increases accuracy in reporting and costing.
Work Order History
Work Order History keeps a record of all work that has been completed. This serves as a valuable reference when similar tasks need to be completed in the future. Know what resources were required and reference any notes that will help to perform tasks more efficiently in the future. Costing data is also collected and stored in work order history. Know what work orders are costing you so you can make decisions that will keep future costs down.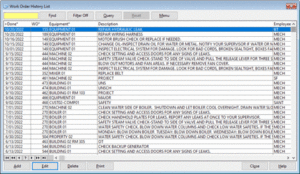 Maintenance Work Order Software Reports
COGZ offers a variety of reports which display information related to work orders.  Work Order Cost, Work Order Load Hours, and Work Order Availability are just some of the useful reports that will help you track work order activity. Take your maintenance department to a new level with top notch data analysis.
Paperless Work Orders
Eliminate stacks of paper work orders with Paperless Work Orders. Email Work Orders to the assigned technician, send email or text message notifications and close Work Orders via email. Alternatively, COGZWeb cloud hosting allows technicians to take their system into the field or shop. View and update work order status via tablet or laptop while completing the task. Save time printing work orders and never lose another work order again.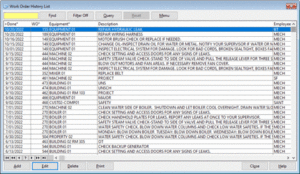 Safety and Compliance
Safety is critically important part in any maintenance operation. COGZ Work Order Software offers a platform for scheduling repetitive tasks related to safety such as safety inspections. It also offers the documentation required to adhere to industry compliance mandates and audits. Completing tasks related to safety on a regular basis will keep your maintenance department accident free.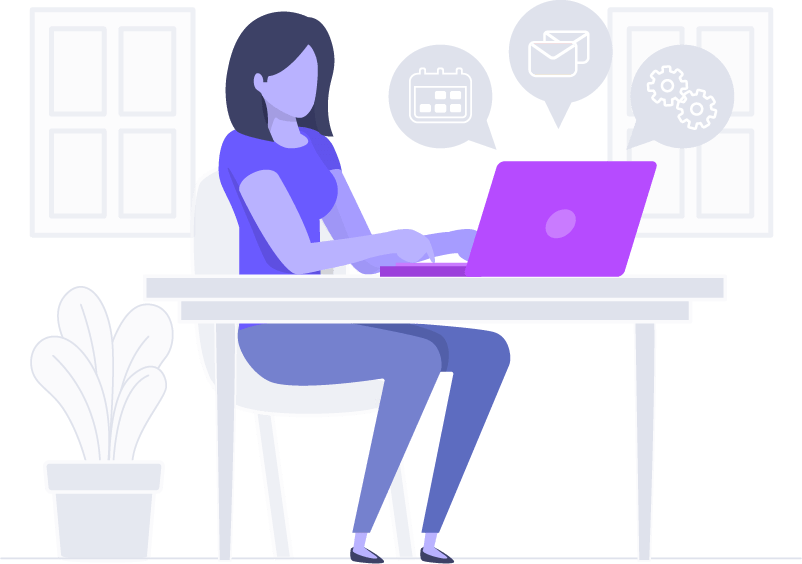 Work Order Management Software For all Maintenance Applications.
COGZ is an essential tool for your maintenance department. CMMS can be used in virtually any computerized maintenance environment that requires Work Orders. Whether you require maintenance software for manufacturing, food processing, building, transportation, educational facility, healthcare, hotel, government, construction, or for other maintenance areas, COGZ will meet your needs and exceed your expectations!

easy to use
With its intuitive interface and user-friendly design, WO Software tracks and records your Work Orders every time! Easy and powerful, COGZ minimizes operator input during startup and normal operations to automate your facility maintenance management.

See the Results
Get the fastest implementation in the industry. Setup your Maintenance Work Order system and start seeing tangible results in weeks. Why not get started now?
Maintenance Work Order Software Reviews
Customer Testimonials – Customer Success Stories
My company has just started setting up the system for use. It has been very easy to set up so far. We were looking for a program that would be easy to use. I find that COGZ is very user friendly. Even if you do not have, very much experience in computers COGZ has pull down menus to help you make your selections. The tech support has been great so far, but we have not had to use them much yet. I would recommend this product for anyone who is looking for an easy to use program with great reports, etc.
We have been using COGZ for about one year. We did not have a maintenance management system before the implementation of COGZ. The program is easy to use and learn. I think you will find it quite capable of assisting you with your preventive maintenance system. We have not had any problems with COGZ. Their customer service has been very responsive to our questions. If there is a simple problem, they will correct it right away
I strongly recommend the COGZ program; it is easy to use. The customer support is very good; you will feel like it is one on one.
Free Trial! Get Started Now!
Try COGZ Work Order software now and see how simple it is to capture the important work your maintenance department is doing every day!
You can be running in just a few minutes using real assets with real issues.

Know what's on the Schedule
Your Maintenance Work Order System makes sure all outstanding issues are logged and scheduled. Keeping track of what needs to be done, when, and by whom, is essential for management.

Know what's been Done
All your Work Order data has been captured and organized by your Maintenance Work Order Software. You can review by Asset, by Part, by Employee and other criteria. This invaluable information will be at your fingertips!