Preventive Maintenance Software
Preventive Maintenance Software is the heart of your CMMS System. COGZ keeps your assets operating continuously, reliably and without surprises. The key is on-going and timely performance of Preventive Maintenance tasks. Setting up PM work is simple and fast with COGZ Preventive Maintenance System. COGZ is user friendly, powerful and will never forget a task. Replace fire fighting with proactive maintenance.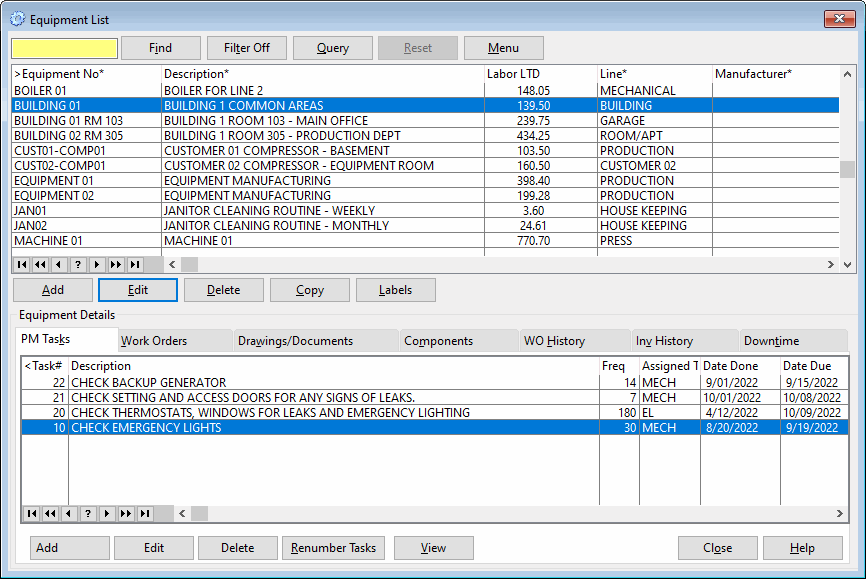 What is Preventive Maintenance Software?
Preventive Maintenance Software automatically schedules preventive maintenance tasks so that you don't have to. Completing maintenance on time saves time and money by reducing breakdowns.
CMMS Software is a maintenance solution that tracks your equipment and reoccurring tasks. It can also be used to perform predictive maintenance on your assets. These maintenance tools avoid reactive maintenance and the high costs that result.
How are Preventive Maintenance tasks scheduled?
Frequency (daily, weekly, monthly)
Meter reading (miles, hours).
Preventive Maintenance Work Orders are automatically generated based on the date the task was last completed. They show up on the Work Order list and can be printed or emailed. COGZ CMMS Software has tools like the PM Wizard that make setting up your preventive maintenance tasks easy and fast.
Some Preventive Maintenance Softwares allow work order requests which schedule reactive maintenance work orders.
What are the Benefits of Preventive Maintenance Software?
Increase productivity by increasing equipment uptime.
Increase equipment life span with on time preventive maintenance.
Decrease maintenance costs by minimizing downtime due to breakdowns.
Maximize existing resources with proper maintenance planning.
Reduce stress on your maintenance team by working smarter.
Identify which assets are costing the most money and why.
Have the parts you need when you need them while controling Inventory costs.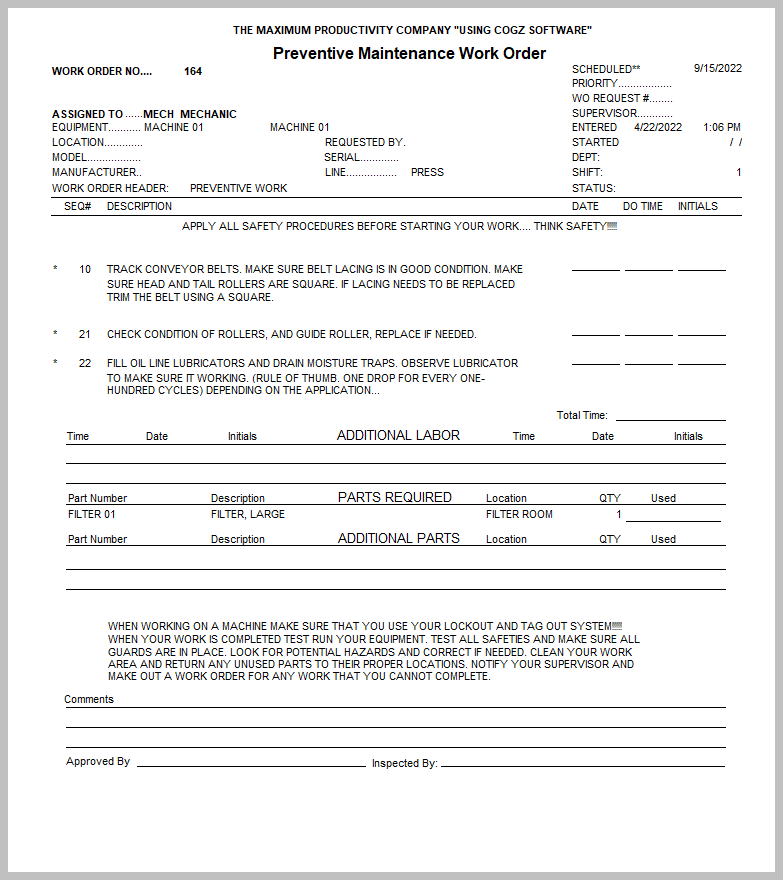 Why is Preventive Maintenance Software Important?
Preventive Maintenance Software is important because it schedules and tracks your preventive maintenance tasks. Organizing and prioritizing your tasks will make sure that you complete tasks on time and never forget one. Timely preventive maintenance stops breakdowns before they happen. Breakdowns cannot be eliminated, but decreasing the number of breakdowns substantially reduces maintenance costs and increases profitability.
CMMS Software also tracks spare parts inventory for your equipment. Tracking and organizing your inventory allows you to keep the parts that you need on hand when you need them. Having parts in stock reduces equipment downtime allowing for additional cost savings. A preventive maintenance system will also track labor and materials costs for your equipment. Having  all of your maintenance information at your fingertips allows you to make the right decisions. Proper maintenance planning and maintenance management with complete data will help you to take your maintenance department to the next level.
COGZ Maintenance Software Features
Equipment/Asset Management
A CMMS System starts with Equipment Management. Maintain a complete listing of your assets as well as their preventive maintenance requirements, diagrams and maintenance history. COGZ features an Equipment Master Console which tracks all of this information. This powerful display shows all of the information on a piece of equipment on one screen including work order & inventory history and drawings/ documents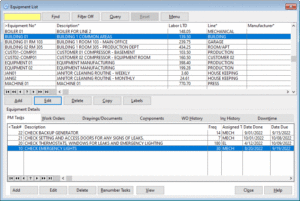 Automated Preventive Maintenance
Preventive Maintenance Software is the cornerstone of your CMMS Software. COGZ schedules your preventive maintenance tasks and makes sure that you complete them on time. Performing timely preventive maintenance prevents breakdowns and expensive downtime. It keeps your equipment and facilities running smoothly, improves safety and productivity. Fight inflation by reducing unnecessary costs.
Work Order Reminder
COGZ makes work order management simple. The Work Order List displays all of the open work orders on a single screen. Enter labor and parts costs when work orders are completed. Track work order costs and see what equipment is costing you the most money.  Work Order Reminder makes sure you never forget a work order. It notifies you when your work orders become overdue.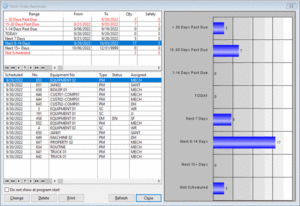 Assign Parts
Global Supply chain issues have made proper inventory management more important than ever. COGZ tracks what spare parts you have on hand and knows when you need to reorder so you don't run out. All inventory information is logged including cross references and alternative vendors, making it easy to find a substitute when needed. Backorders and expensive overnight freight will become a thing of the past. Lower inventory holding costs by having the right quantity of inventory on hand.
Frequency
Different tasks, different schedules. COGZ allows a wide range of Work Order scheduling options. These options include Number of Days since last performance, and/or meter, miles or run hours. COGZ has the flexibility to make your Preventive Maintenance System work.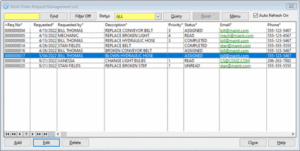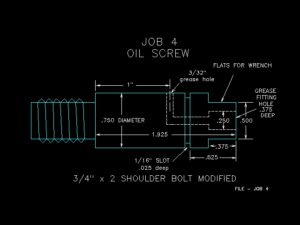 Attach Drawings/Documents
Attach a drawing or other document to the PM Task and print it with the Work Order. Make sure your staff has all the resources they need to complete the work properly and efficiently.
Last Comment
Carry it forward. Need a reminder to bring a filter next time you change the oil? Make a note when you close the current work order and COGZ Preventive Maintenance System will automatically add it to your next scheduled maintenance for this task.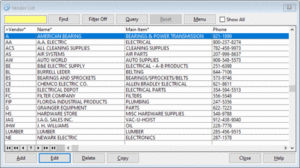 Mobility
COGZWeb is Maintenance Management Software in the cloud. All you need is a web browser an an internet connection. Take COGZ into the shop or the field. Go paperless by accessing and completing your work orders on tablets or laptops. Save time by having all of the maintenance data you need at your fingertips. Improve the quality of data entered with the ability to enter data as technicians do the job.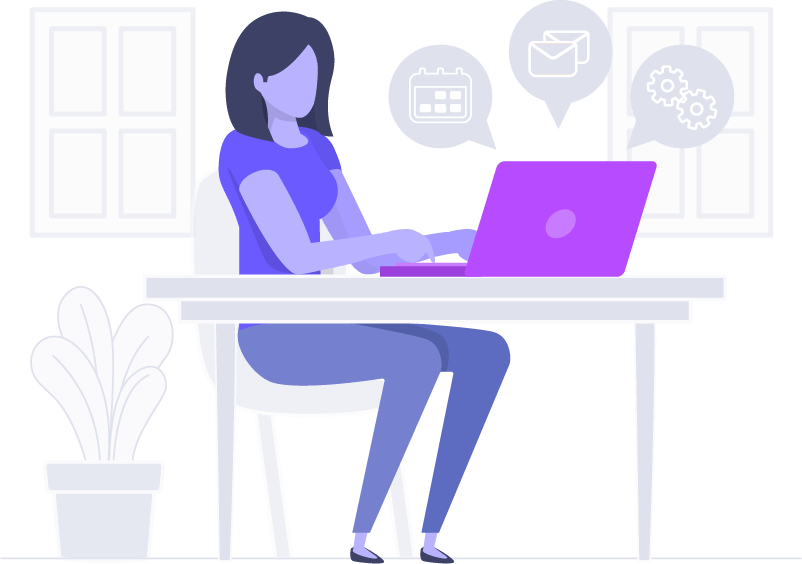 What is the Best Preventive Maintenance Software?
COGZ Preventive Maintenance Software is an essential tool for your maintenance department. We offer the fastest implementation in the industry and renowned ease of use. Flexibility is a key feature of COGZ. It can be used in virtually any computerized maintenance environment that requires preventive maintenance. Whether you require maintenance software for food processing, facilities, transportation, educational facility, hotel, manufacturing, COGZ is powerful enough to meet your needs and exceed your expectations!
The biggest challenge in managing a maintenance department is lack of staff and limited resources. (Plant Engineering, 2020)  Let COGZ help you work smarter and make the most of the resources you already have.

User Friendly
With its intuitive interface and user-friendly design, COGZ Preventive Maintenance Software produces your PM Work Orders on time, every time! Easy and powerful, COGZ minimizes operator input during startup and normal operations to automate your facility preventive maintenance management.

See the Results
Setup your COGZ Preventive Maintenance system and start seeing tangible results in weeks, not months or even years. Optimize your maintenance department. Track KPIs with built in reports. Why not let COGZ get you started now?
Preventive Maintenance Software Mobility
Maintenance happens in the shop or in the field, not at a desk. COGZWeb Cloud Hosting allows you to take your Preventive Maintenance Software anywhere with an internet connection. Put the power of COGZ into your technicians hands with tablets or Chromebooks.
Have the data you need to get the job done right at your fingertips

Increase wrench time by decreasing travel and research time
Go paperless
View and close work orders in real time
Maximize data security
Really fast speeds
COGZ Preventive Maintenance Software is a good product. We have implemented it Corporate wide. The support is the best I have ever seen.
I would rate COGZ as a very effective program, which requires a low initial capital expense. It is easy to learn and use and the information is easily accessible and comprehensive. Their customer support is excellent.
I like the COGZ program. I have purchased a few other programs and find COGZ very easy to use.

COGZ CMMS Never Forgets
Key to efficient Preventive Maintenance Software is one that never forgets when an asset is due for recurring maintenance. An essential part of our software is keeping track of what needs to be done, when, and by whom.

CMMS Asset History
Need to see if a Work Order has been completed, a Purchase Order Issued, or a Work Request Submitted? Want to know what parts need to be replaced too often? This, and much more is available on a single page.