Maintenance Inventory Software
Inventory Software for your Maintenance Department is essential to properly maintaining your assets. Optimize your Maintenance Department by having the right spare parts on hand to do the job. COGZ Spare Parts Inventory control keeps track of what you have on hand, on order, and even what parts are already committed to work orders. It also keeps a running history of parts used as well as a where used listing.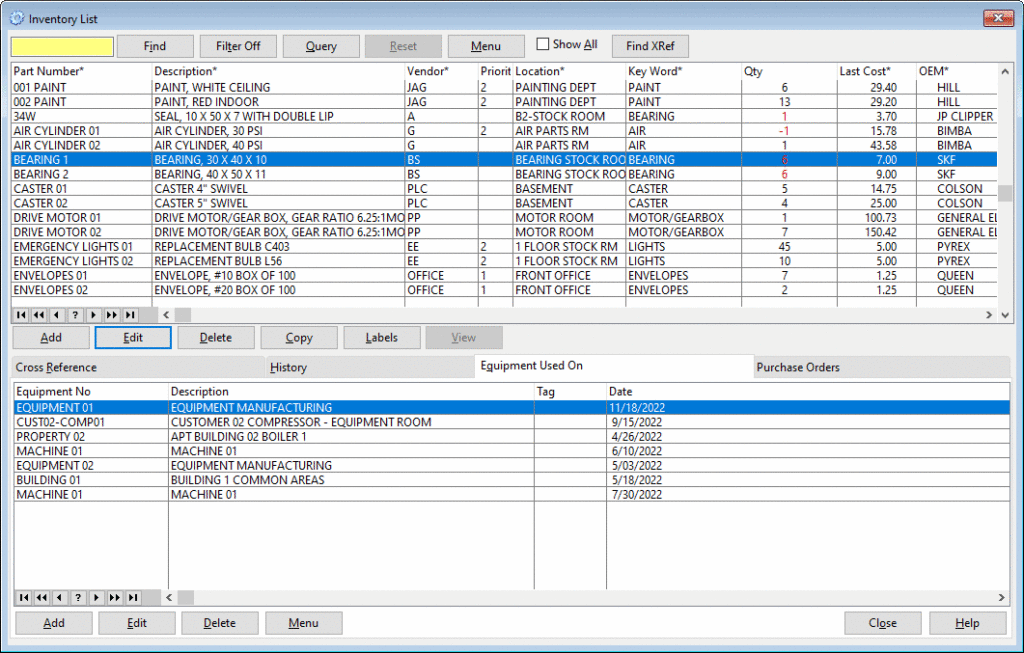 What is Maintenance Inventory Software?
Maintenance Inventory Software helps maintenance departments manage MRO Inventory. MRO Inventory is supplies or parts used in Maintenance, Repair and Operations. This type of inventory is managed separately from other inventory which is intended to become finished goods for sale to customers. Inventory Management Software tracks inventory location and quantity of your parts. It allows you to assign inventory to work orders and tracks inventory costs. Purchasing and Supplier management functions ease the process of ordering additional inventory.
How to Manage Maintenance Inventory with COGZ CMMS Software
Managing spare parts inventory is a critical part of managing your maintenance department. Preventive maintenance and corrective repairs cannot be performed without the required parts. COGZ CMMS will make sure that you know what parts you already have and what parts are due to be re-ordered. Avoid backorders and expensive overnight freight by ordering parts before you need them.
Maintenance Inventory is automatically adjusted when Purchase Orders are received or work orders are completed.
Track inventory usage and costs.
Track inventory available by location.
Reduce downtime- Keep the parts you need on hand. Reports notify you when it is time to reorder.
Control Inventory Costs by keeping the right parts on hand.
Easily create Purchase Orders when inventory is low.
Manage vendor information.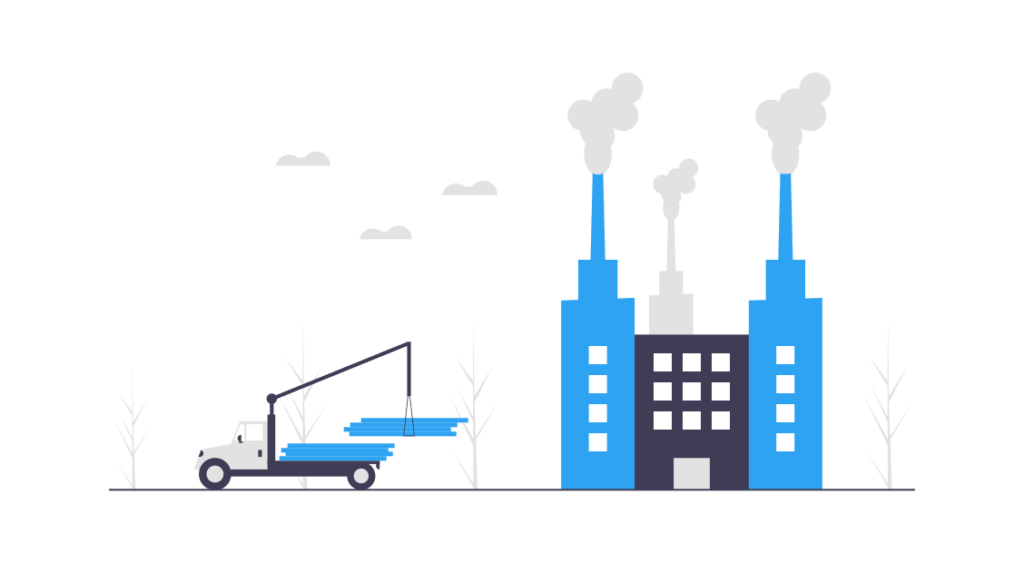 Maintenance Inventory Software Features
Take control of your Spare Parts Inventory Management with CMMS Software. Never run low on parts again.

General Information
Finding the right part for the task at hand can be time consuming as well as frustrating. COGZ Spare Parts Inventory List puts the information you need all on one page. This, of course, includes the basics such as part number, vendor part number, vendor name, as well as part description and costs. Quantity on hand, with location, is another piece of vital information shown right on the main screen.

Purchasing Options
Trying to remember where you bought the part last time, what other vendors carry the required spare, at what cost, and even their phone numbers, can be a daunting task. With COGZ Maintenance Inventory Software you have all this information available at your fingertips.

Bar Codes and Physical Inventory
Keeping your parts inventory up to date is one of the more challenging   maintenance department tasks. It requires strict adherence to procedures, frequent monitoring, and the right maintenance hardware and software. COGZ Maintenance Inventory Software offers easy cycle counting with a bar code system that's up to the task.

History
Having the right inventory can save you a lot of time and money! Our Parts Management Software maintains a complete history of spare part usage. Our Inventory Activity Report shows you how to invest in the parts you need.

Equipment Used On
Equally important in analyzing stock parts requirements is knowing where and when parts are being used. Is this part only for one asset, or is it common to multiple machines? COGZ Inventory Management Software automatically tracks parts and displays this information in multiple formats, as needed.

Cross References
Sometimes you just don't have the exact part you need, but there are other options. The COGZ Inventory Cross Reference Feature allows you to keep track of alternatives to minimize time spent in the system, and maximize your productivity.
Free Trial! Start Using COGZ Now!
Use COGZ for your Maintenance Inventory Spare Parts Management now and see how simple it is to capture the important information your maintenance department needs all day, every day. Get the knowledge you need to keep the right parts in stock when you need them.

Do you know how much your spare parts are costing your company?
If you are like most companies, you have made a tremendous investment in spare parts so you can keep things running. Wouldn't it be great if you could reduce the money ties up in unneeded parts and invest more in those that are required?

Is Bar Coding right for you?
Yes! Need we say more?.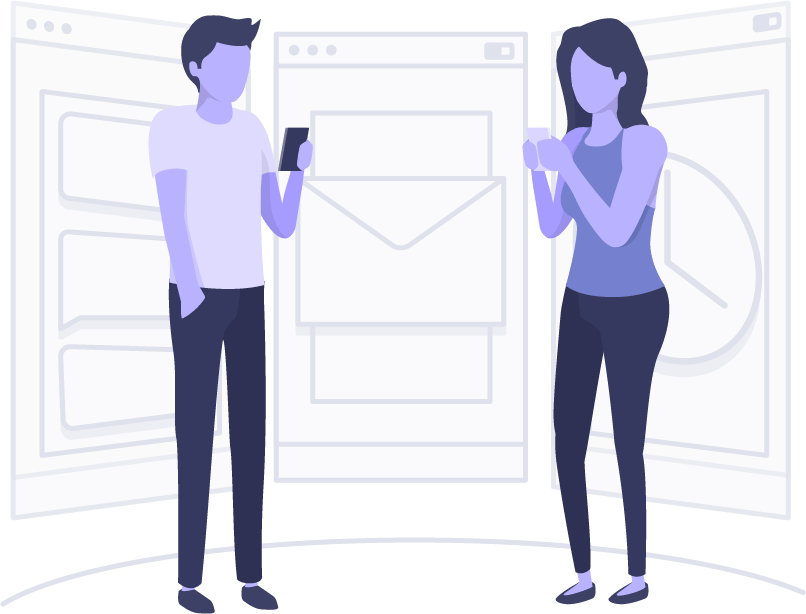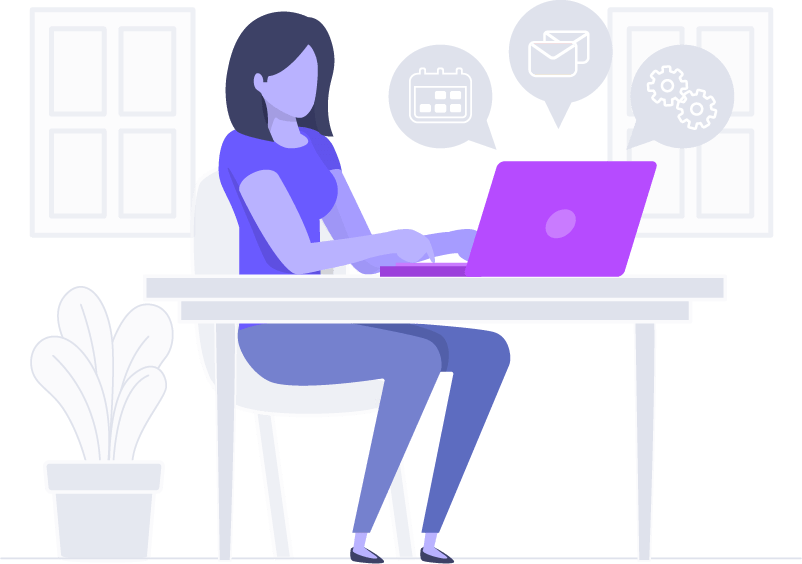 Maintenance Inventory Software for all Maintenance Applications.
COGZ Maintenance Inventory Software for spare parts management is an essential tool for your maintenance department. COGZ CMMS can be used in virtually any computerized maintenance environment that requires Inventory Management. COGZ will meet your needs and exceed your expectations!

Spare Parts Management Software that is easy to use
With its intuitive interface and user-friendly design, COGZ Software tracks and records all your maintenance efforts each and every time! Easy and powerful, COGZ minimizes operator input to make Inventory Parts Management Simple.

See the Results
Setup your COGZ Parts Management system and start seeing tangible results in weeks. Why not let COGZ get you started now?
Reviews
Customer Testimonials – What COGZ Users are Saying.
I have worked with three different systems and have tested close to a dozen more and decided on COGZ. The reason we chose COGZ is, it's very intuitive and easy to operate. The time to train our people was minimized. We use COGZ for everything we do from work orders to inventory and utilize four workstations that run on our network.
For us, moving to COGZ was a great move! The package we had before COGZ was so complicated that many would not use it. We have it installed on NT server. We have five concurrent user licenses. Anyone (about 500 employees) can create a Work Order. We have 10 maintenance support individuals working three shifts, 5 days each week. Only the maintenance management Group can access restricted areas.
I have been using COGZ for about year and a half. The system works great for me. Any problems that I have ever had were user problems. The system has worked well for me.