Equipment Maintenance Software
Equipment Maintenance Software increases asset life spans and decreases maintenance costs. Tracking all the information about an Equipment Item or Asset is key to proper maintenance of that item. COGZ Equipment Master Console puts all information about an item on a single page, so you have the data you need, when you need it!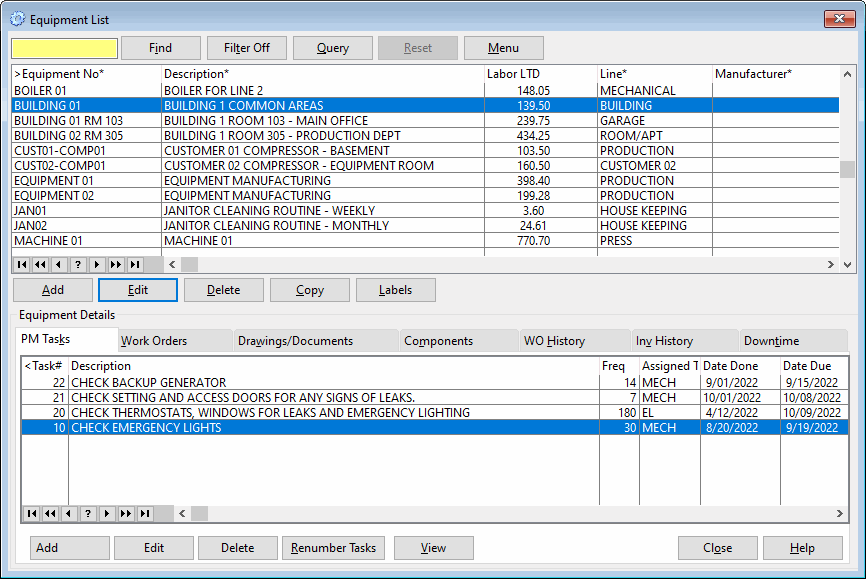 Equipment Maintenance Software Overview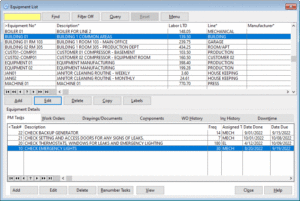 Track Equipment Information and History
Having access to all of the information on an asset is crucial to efficiently performing maintenance on that equipment. Data such as manufacturer, warranty expiration date, diagrams, PM schedules, and history ensures that you have all of the information you need to get the job done.
PM Scheduling
Scheduling preventive maintenance tasks is the heart of Equipment Maintenance Software. Preventive maintenance tasks are scheduled by date or meter and are marked completed when work is done.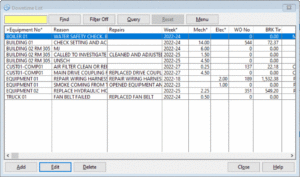 Track Downtime
Capture and track downtime details including the reason the equipment was down and what repairs were made. Classify downtime into categories for in depth reporting and analysis. Know what equipment has the most downtime and what the causes are. Learn what each asset is costing you in lost productivity. Increase your bottom line.
Track Maintenance Costs
Track the cost of labor and parts for each asset. See which asset is costing you the most money and which assets need to be replaced. Plan your maintenance budget and track your progress on meeting your maintenance goals.
Equipment Maintenance Software Features
Asset and Equipment Management is what maintenance is all about. COGZ Equipment Maintenance Management software makes it easy to manage your department. You need complete and accurate information to make the right decisions about your Assets.

General Information
Knowing the simple things about your assets, such as Manufacturer, Model, Serial Number, and Warranty date can save time and money. Not to mention make your life much easier. COGZ Equipment Maintenance Software keeps all this information in one, easy to find location.

Cost Summary
Having current and total costs for each asset is required information if you wish to make intelligent, data-based decisions. COGZ Equipment Management software keeps track of all expenses including parts and labor.

Documents and Drawings
Need to review equipment manuals, drawings, parts listings? Link all these, and more, directly to the asset on the Equipment list within COGZ. Whether it's you, your tech, or your parts manager, no more hunting to find the critical information they require.

Preventive Maintenance
COGZ Equipment Maintenance Software automatically tracks and updates your equipment's' Preventive Maintenance status. Know what was done and when it was done. Know when it is due to be done again. With a single entry, all relevant information is logged and updated.

Current Status
Need to know what work has been done and what is outstanding? COGZ Equipment Maintenance Software will show you currently open Work Orders, including PM's as well as past work order history on a single list.

Parts
Key to proper Equipment repair and prompt, on-time work order completion is having the right parts on hand, right now. COGZ Equipment maintenance software maintains a list of parts for each asset as well as current inventory and location to enable rapid access to the parts area.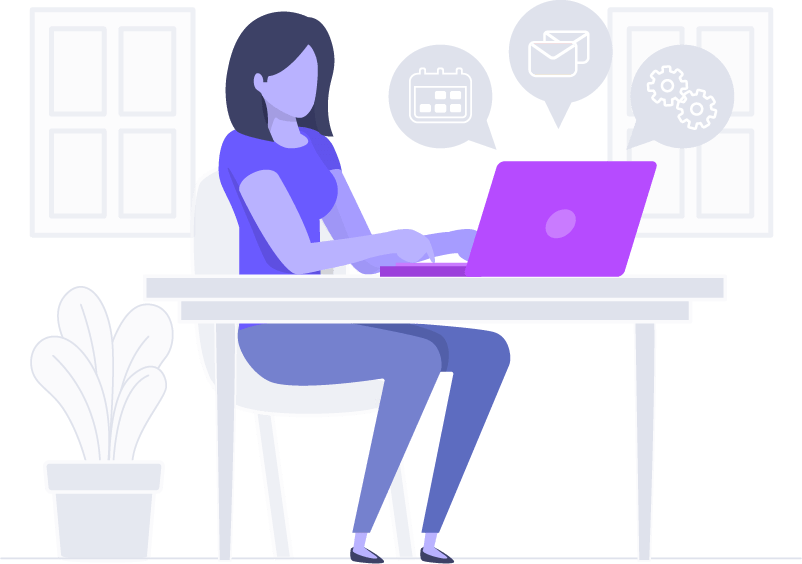 Equipment Maintenance Software Powerful Enough for any Maintenance Application
COGZ Equipment Management software is an essential tool for your maintenance department. COGZ CMMS can be used in virtually any computerized maintenance environment that requires Asset Management. Industries using COGZ include: food processing, manufacturing, building, fleet, government, educational facility, heavy equipment, energy, hospital, hotel, and many others. COGZ will meet your needs and exceed your expectations!

Equipment Maintenance Software that is easy to use
With its intuitive interface and user-friendly design, COGZ Software tracks and records all your maintenance efforts each and every time! Easy and powerful, COGZ minimizes operator input to make Equipment and Asset Management Simple.

See the Results
Setup your COGZ Equipment Maintenance Software system and start seeing tangible results in weeks. Why not let COGZ get you started now?
Reviews
Customer Testimonials – What COGZ Equipment Maintenance Software Users are Saying.
I have been using COGZ for about 7 years. It is a great tool for tracking the preventive maintenance for three of my facilities. I do not know how I was able to keep up before I purchased this system.
We have been using COGZ CMMS Software for over five years. It is a very simple and straight forward preventive maintenance program. Our safety officers love it because it tracks all of our preventive maintenance as well as repairs. I have recommended COGZ to other parks throughout the state and will continue to do so.
We have been using COGZ Maintenance Software for 5 years now. We use it to ensure crucial maintenance checks are performed and documented. Our modern times have created a true need to document many maintenance items for insurance and other requirements. Once you have your PM's set up in COGZ you are good to go. The system remembers when all these items need to be done and kicks them out for you.
Free Trial! Start Using COGZ Now!
Use COGZ for your Equipment Maintenance software now and see how simple it is to capture the important information your maintenance department needs all day, every day. You can be running in just a few minutes using real assets with real issues.

Know your actual costs
Your Equipment Maintenance Software automatically captures your equipment maintenance costs. This is essential for informed management decisions. Know your period, yearly and total costs to determine trends.

Is it time to replace?
Using the above information, you can delve further into the cost breakdown by reviewing the asset repair history by work order and date. This will clearly show the issues and lead to qualified actions.