Maintenance Scheduling Software
Maintenance Scheduling Software automatically schedules your Preventive Maintenance work at the proper time.  Specify Preventive Maintenance task frequency by date or by meter. Non-PM Work Orders may be scheduled as needed. COGZ CMMS excels at these tasks while minimizing your time at the computer! See why COGZ CMMS offers the fastest implementation in the industry.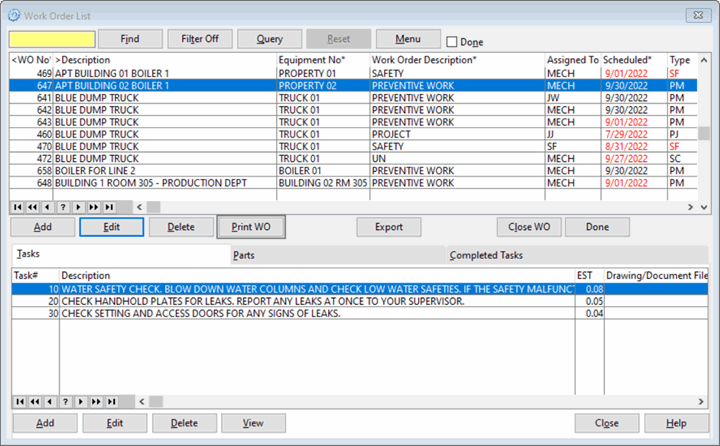 What is Maintenance Scheduling
Maintenance Scheduling is the process of deciding who will perform the maintenance work that needs to be done and when it should be completed. The primary goal of maintenance scheduling is to complete the greatest amount of work possible with the resources available. This is done by moving from a reactive maintenance model to a proactive model. Maintenance Scheduling Software assists you in organizing your maintenance shceule and even automatically schedules your preventive maintenance for you. Additional objectives of maintenance scheduling are:
Schedule the highest priority work to be completed first
Schedule as much preventive work as possible to prevent breakdowns- Free up time to do additional preventive work
Increase efficiency by reducing the instance of rework by assigning technicians with the appropriate skills to each task
Schedule work when the necessary parts are available to complete the job
Utilize Work Order Requests to allow employees outside of the maintenance department to request work
Communicate plans with the maintenance team
Use Maintenance Scheduling Software to optimize maintenance schedules
How Does Maintenance Scheduling Software Help your Maintenance Department?
The keys to successful maintenance scheduling are data and communication. COGZ collects and stores data on all of your maintenance activity. It schedules preventive maintenance tasks and allows you to add corrective work orders as needed. Communicate with your maintenance team via email when new work orders are assigned or when status of a job is updated.
Workload Balancing : Use the Employee Summary Report to determine the number of hours scheduled for each technician during a specified time period. Use this information to allocate tasks to available employees. Avoid over-scheduling and under-scheduling.
Prioritize: Maintenance Scheduling Software allows you to assign a priority level to each work order. Use the priority to make sure the most important work is completed first.
Focus on Preventive Maintenance: Change your focus from reactive maintenance to preventive maintenance. COGZ schedules your preventive maintenance tasks automatically based on hours or meters.
Work Order Reminder: COGZ Work Order Reminder shows all of your open work orders grouped by scheduled date. This feature will also show you how your department did this week on its preventive maintenance at a glance. An easy way to track overdue maintenance allows you to correct problems before they escalate.
Spare Parts Inventory Management: Make sure that you have the parts you need before scheduling a work order. COGZ  Maintenance Scheduling software has a robust inventory management system which tracks what parts are in stock and what parts are due to be re-ordered. Purchase Orders are also available to easily reorder necessary parts.
Work Order Requests: Work Order Requests allow any employee to request repair work to be done. The operator of a machine is the best person to request a work order. They know the specific details of what work needs to be done and can provide the most complete data so that the work can be performed as efficiently as possible.
Email or Text Message Alerts: Use COGZ alerts to communicate with your maintenance team. Notify your technicians when a new work order is assigned to them via email or text message. Alerts may also be sent when status of a work order is updated.
Maintenance Scheduling Software Features

General Information
COGZ CMMS scheduling software tracks all your work orders so you can see how well you are adhering to your department's goals. The COGZ Work Order List shows all open work orders and scheduled dates. Managing your work has never been easier!

Preventive Maintenance
Preventive Maintenance is the keystone of your maintenance efforts. Done properly, it eliminates the constant firefighting efforts that drain your resources and your energy. Done consistently, it eliminates the stress environment many maintenance departments find themselves in on a regular basis.

Scheduled Work
Finding information about what's been scheduled, what work is pending and what has been completed should be simple. With our Maintenance Scheduling Software, everything you want to know can be found all in one place.

Unplanned Work
Even with the best Preventive Maintenance plan, unexpected issues will pop up from time to time. COGZ Work Order Scheduling tracks all types of work orders so you can keep on top of the workload and the progress your team is making toward resolution.

Scheduling Projects
Projects can be difficult to track, especially if long term. COGZ makes recording progress easy. Enter a Project Work Order in the Maintenance Scheduling system and you have an ideal place to record daily parts and labor on a special form. Know how things are progressing well before the completion report.

Work Requests
One of the most important things good maintenance scheduling software can do for your maintenance department is to make it easy to document and track work order requests.  Notifying all affected parties of the request and progress made is the next most important. COGZ work order scheduling system includes these important options.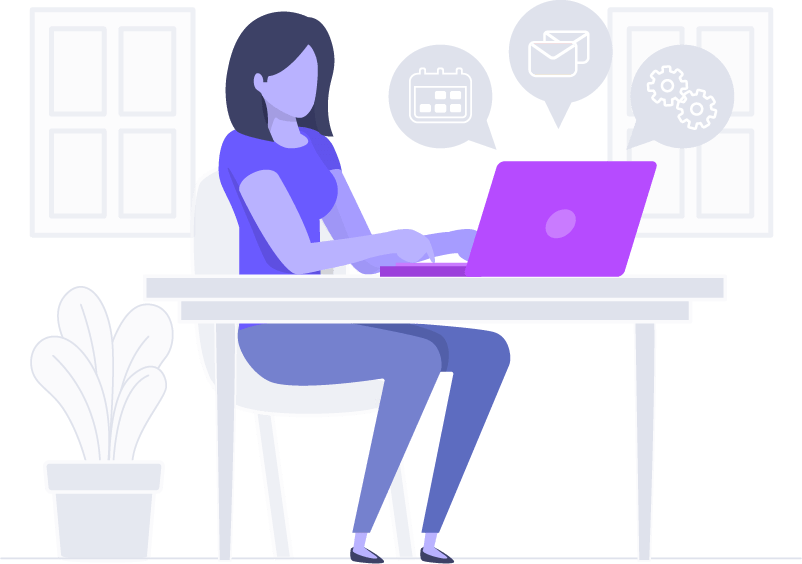 Maintenance Scheduling Software for all Maintenance Applications.
COGZ Maintenance Scheduling Software is an essential tool for your maintenance department. COGZ CMMS can be used in virtually any computerized maintenance environment that requires Work Order Scheduling. COGZ will meet your needs and exceed your expectation.

Maintenance Scheduling Software that is easy to use
With its intuitive interface and user-friendly design, COGZ Software tracks and records all your maintenance efforts each and every time! Easy and powerful, COGZ minimizes operator input to make Work Order Management Simple.

See the Results
Setup your COGZ Maintenance Scheduling system and start seeing tangible results in weeks. Why not let COGZ get you started now?
Reviews
Customer Testimonials – What COGZ Users are Saying.
I would like to tell you that the customer support of this company is very prompt and courteous, as well as effective. We use this system to manage the maintenance in our manufacturing plant, we make parts for electrical motors so we have a lot of machines.
Technical support has been good and I believe it is one of the easiest programs to implement. The best part is, as you build the system and develop more needs you can add the modules you want. I have used two other systems in the past and this one is by far the easiest.
I would recommend the software to anyone.