COGZ Cloud CMMS Software
Cloud CMMS Software helps you leverage time and cost savings to optimize your maintenance departments efficiency.
What is Cloud CMMS Software?
Cloud CMMS Software is a Computerized Maintenance Management System that is accessed using the internet from a server located in the cloud. It is also referred to as Web based CMMS Software or SaaS CMMS Software (Software as a Service). Web based Maintenance Software is the most efficient way to manage your maintenance department. The interface is identical to the traditional on premises version of COGZ. This means you will still have all the benefits of COGZ easy to use and powerful maintenance management software.
Increase productivity by enabling your maintenance team to access your system anywhere with an internet connection. Maintenance happens in the field, not in an office. Take COGZ cloud CMMS Software with you on a laptop or tablet. Save your maintenance staff's time by reducing travel between the office and your equipment. Less travel time means more wrench time and more cost savings. Save time and money by allowing our COGZ team to manage your Cloud Maintenance Software for you. 
COGZ Cloud CMMS offers:
Renowned Ease of Use

Lightning Fast Speeds. Up to 20 times faster than current networks!

Reliable Operations! One point of contact, we manage it for you!

Access anywhere with a web browser and internet connection.

COGZ experts manage all aspects of your system configuration and updates

Backups with off-line redundancy.
 Click here to read our blog post on web based CMMS software vs. On Premises.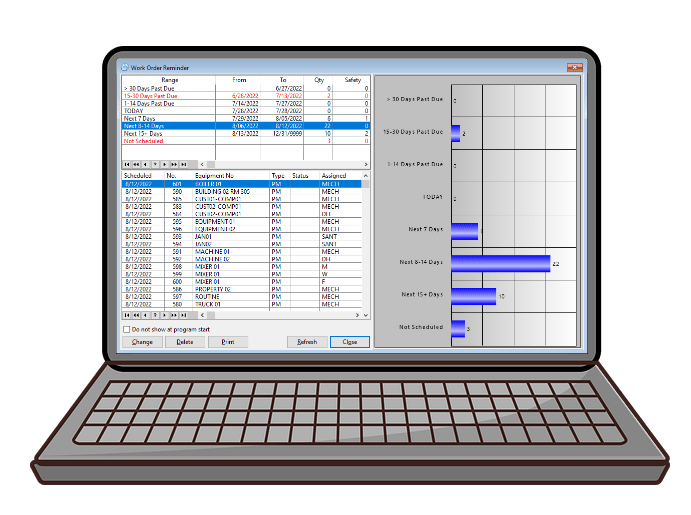 Top Notch Security
You can rest easy knowing that your maintenance data is safe and secure from a data breech. COGZ Cloud CMMS Servers are located in the U.S. and are backed up with offline and offsite redundancy. No matter what happens to computers in your office your crucial maintenance data will be safe and available to you.
Go Mobile
Take COGZ Cloud CMMS Software with you to the job. Access your maintenance data in the field. COGZ stores valuable information on equipment and spare parts inventory. Work smarter and save time by having all of the information you need on one screen. Technicians can complete work orders in real time resulting in timely reporting and paperless operation.
Cost Savings
 COGZ Cloud CMMS Software offers lower initial cost and total cost. Subscription fees offer an initial cost benefit over purchasing an on premises software license. Eliminate the need for costly servers, firewalls, and additional IT personnel. We host your system, manage and update it for you.
COGZ has thousands of users in every type of maintenance operation from large to small. Industries benefiting from the flexibility of COGZ Cloud CMMS Software include: Manufacturing, Food and Beverage, Healthcare, Distribution, Transportation, Hospitality, Facility Management, Education, Government, Construction, and countless others. Start using COGZWeb today and see the difference this advanced technology will have on your bottom line.
Differences Between Cloud CMMS Software and On Premises.
Cloud Maintenance Software is purchased as a monthly or annual subscription. The system and its data are stored on a remote server located in the cloud. An internet connection is required to access your software. This allows excellent mobility and will allow you to take your CMMS into the field. Increase wrench time by allowing your technicians to access valuable maintenance data from the jobsite with the click of a button. COGZ Cloud CMMS Software is kept up to date and running smoothly by COGZ experts.
On premises software is purchased as a license agreement. Software is installed on your local computer or server. You own the software itself, and an annual fee is paid for updates and technical support.  Your company is responsible for providing hardware such as servers and IT personnel to manage the system.