COGZ CMMS Releases Version 6.0 – Simple Powerful and Flexible
Woodbury, CT August 22, 2022
COGZ CMMS Software Version 6.0 is now available from COGZ Systems. Increase your maintenance management efficiency with exciting new features like Work Order Teams and expanded exports for Work Orders and Purchasing. This update makes COGZ even more versatile and will help you optimize your maintenance department with additional flexibility.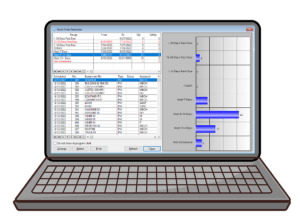 COGZ Systems provides a Simple and Powerful Cloud CMMS Solution. COGZ 6.0 still offers users its renowned user friendly design with enhanced functionality. Do you need to assign different technicians to work on the same Work Order? Would you like to export Work Order History details or Purchase Order information? COGZ Version 6.0 offers these powerful new functions along with many more.
Key Features of COGZ CMMS Version 6.0:
Work Order Teams:  Delegate work more effectively by adding tasks with various technicians assigned to the same work order.
Private Queries: Keep your queries safe by adding security if needed. Keep others from viewing or changing your queries.
Master Document Fields: Keep your documents organized and easy to find. Inventory and Equipment Drawings/Documents now contain a Master Document field which allows you to keep track of the secure location of original documentation.
Enterprise Login: Save time with a simplified login process. Updated Login allows enterprise users to go directly to their location.
Purchase Order Export: Export Purchase Order Information Including line item details. This handy feature allows your purchasing data to be accessed by third party accounting software.
Work Order Export:  Export Work Order Details including line item information allowing you to interface with other applications.
Email: Setting up COGZ Email Service is a breeze now that manual email settings are simplified.
About COGZ Systems
COGZ Systems is a leading provider of CMMS Software. COGZ serves thousands of users all over the world in all types of maintenance operations from large to small. COGZ is designed to improve maintenance operations in all industries. Manufacturing, Food Processing, Technology, Facility Management, Transportation, Hospitality, Construction, Education, Government, Energy and Healthcare are just a few of the industries that are taking advantage of the benefits provided by COGZ CMMS.
Contact Us to update your COGZ System to 6.0 today.