COGZ and COGZ EZ Network Module
The Network Module is available to expand your overall usage of COGZ CMMS Software by making it accessible to users within your company. COGZ CMMS Software is fast and the network installation takes minimal disk space.  It will operate on any network system that can serve files to user's Windows computers.
You can load COGZ onto your server (or any computer that will be used as a server) and create as many shortcuts on your desktops as you wish with one user logged in at a time.
(Current customers contact us for quote based on system configuration.)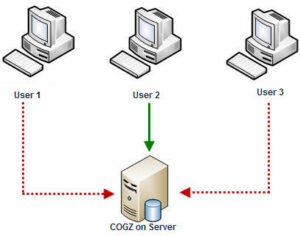 There are two ways to add additional users.  You will first need to decide whether you would like users to have access to the COGZ program, or simply be able to create work order requests.  Below you will find these two available options.  Click on the option you feel best suites your needs.