Custom/Translation
COGZ CMMS Software Optional Custom/Translation Module Translation Form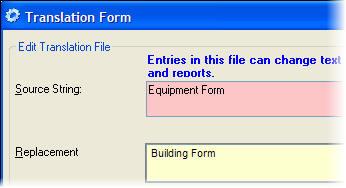 With the Custom/Translation Module you can efficiently modify the COGZ CMMS software language and/or nomenclature to reduce user error.  You have the flexibility to customize features in COGZ for use in any country or with any maintenance nomenclature.
Free Trial! Start Using COGZ Now!
Making COGZ CMMS Software conform to your company's language or nomenclature makes employees more comfortable and speeds implementation.
Work Order Software has never been easier, quicker, or more convenient!
After you have had a chance to marvel at the complete yet simple COGZ CMMS software, click on Free Trial above to start using COGZ immediately – with your own data!
To continue your tour of easy to use COGZ simply click on Return below.
Total Productive Maintenance Software